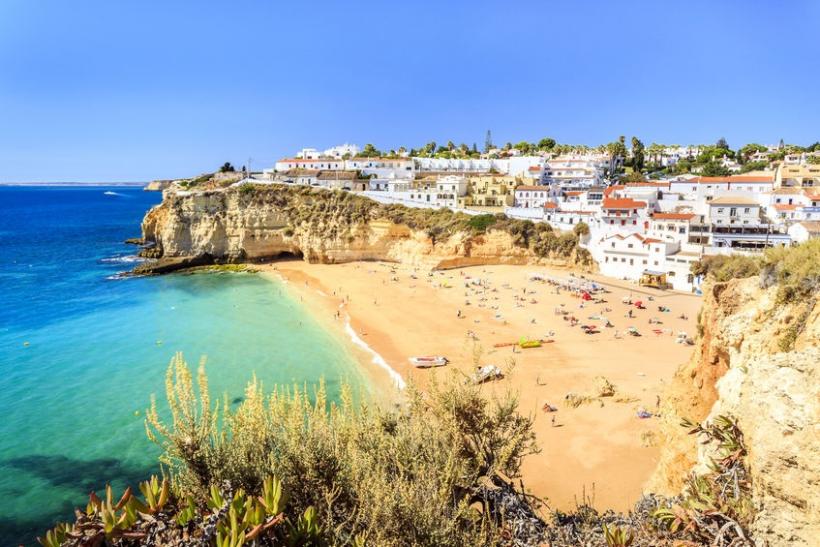 While the majority of Canadian Snowbirds head south to the U.S., Mexico or Central America, some travel across the Atlantic to the warmer winter regions in southern Spain, Portugal, the Canary Islands, Italy, Malta and Cyprus.
These destinations are especially popular for winter long-stays in February and March. And since it's considered off-season in Europe and the Mediterranean until late April or May, you'll avoid the crowds and find great prices for long-stay rentals and hotels.  
In fact, some Canadian snowbirds even head to the cooler parts of Europe in the winter months, simply to enjoy the lack of crowds in cities like Paris, London and Rome where you can rent apartments for less at that time of year.
Of course, you must factor in the cost of transatlantic flights and perhaps car rentals, but many Snowbirds use points towards their flights and there are some good seat sales in the winter months too.
Currency exchange is another concern, as you will be using the Euro in most countries, which usually has an exchange rate that is around the same or slightly worse than the U.S. dollar vs. the Canadian dollar.
Here's a brief overview of some popular winter destinations in Europe:
Portugal
Portugal is probably the number one European destination attracting Canadian snowbirds. It is generally quite affordable - especially in the winter months and offers a mild climate in its coastal regions.
Another reason Portugal is popular with snowbirds is that it is a top golf destination. The British introduced golf to Portugal during the 19th Century and the country now has over 90 golf courses designed by some of the best golf architects in the world. Many are in the Algarve region and the Lisbon Coast - as well as on the lovely neighbouring island of Madeira.
Apart from affordable accommodation and a reasonable cost of living, Portugal also has wonderful seafood and fabulous wines! The country has many beautiful castles and museums to visit and explore and provides a culturally rich environment to keep the winter visitor busy.
English is quite widely spoken – or at least understood—in Portugal, especially in the tourist regions.
The Algarve
The Algarve is the most southern part of Portugal, located on the Gulf of Cadiz in the Atlantic Ocean, and attracts a large number of Canadian snowbirds during the cooler but sunny winter months. In the summer, the region is packed with European and Portuguese holidaymakers flocking to its sunny beaches.
The area is very pretty with whitewashed cliffside fishing villages overlooking wide, beautiful beaches. Many coves and bays define the coastline, along with a huge array of villas, apartments, hotels, bars and restaurants. There are many excellent golf courses and numerous long-stay rentals that are generally very affordable in the winter months. 
The main city in the region is Faro, which has an international airport. Other towns along the coast include Albufeira, Lagos, Portimao and Tavira. You can look for efficiency apartments or villas to rent in any of these towns.
Of course, you can also stay in one of the hotels that stay open in winter and offer much cheaper rates.
Because of its busy summer season, the Algarve has a good infrastructure of services as well as many historical attractions nearby. Ideally, you will want to rent a small car to explore the area, although many walking tours are offered in the region.
The Lisbon Coast
Just outside the wonderful city of Lisbon is the Lisbon Coast. Lisbon itself is a historic city and well worth exploring. Located near the Atlantic, there are several nearby seaside towns where you can find accommodations.
The area also features some great golf courses, some with fabulous views of the Atlantic and the dramatic coastline.
Charming Cascais is actually almost a suburb of Lisbon - a seaside and beach town that attracts both city folk on weekends and tourists from around the world in the summer months. Here you will always find fresh seafood and many restaurants, clubs, bars and cafes along the waterfront. 
There are many other beach towns south of Lisbon along the Atlantic coast including Costa da Caparica and Meco, or the more secluded Adraga.  
The region has a wide variety of accommodation to choose from, due to summer tourism. Snowbirds can find home and apartment rentals – or some small hotels that stay open year round. A car is a definite asset to explore the region inland.
Spain
Many Canadians have spent the winter in Spain for decades now. Some even own property, but most take advantage of the many apartments and villas for rent during the winter months at much better prices than you will find in the summer (when the place is a favourite with tourists from Britain and Europe).  
Much of Spain has a dry climate most of the year and offers more sunshine and milder temperatures than most of Europe.
Spain is steeped in history and has many beautiful cities, towns and regions to explore. Snowbirds can immerse themselves in the art, culture, food and music of each region - and maybe take Spanish lessons - although English is widely spoken, especially in the southern tourist region along the coastline.
Furnished apartments with kitchen facilities are very affordable in the off-season and renting a small car will allow you to get around and explore.
Costa del Sol
Spain's famous Costa del Sol is one of the warmest parts of the country in the winter and has a very mature tourism infrastructure with lots of accommodation choices, restaurants and bars.
The region has lovely sandy beaches and is surrounded by mountains which protect it somewhat from northern winds. While not hot in the winter, it enjoys mild, springtime temperatures.
The Costa del Sol runs southwest from Malaga, which is the main airport for the region. Here you will find the towns of Torremolinos, Fuengirola, Marbella, Estepona and San Luis de Sabinillas. 
While in southern Spain, take the opportunity to visit the beautiful Spanish city of Seville, famous for Flamenco dancing as well as Granada, which is home to the Byzantine Alhambra and surrounded by the Sierra Nevada Mountains - where there is skiing in winter!
Canary Islands
The Canary Islands are a hugely popular tourist destination in the summer months but do have warm temperatures all winter and offer long stay rentals and far smaller crowds in the winter.
Although Spanish, the Canary Islands are actually located off the coast of Africa, west of Morocco and the Western Sahara. They are made up of the islands of Lanzarote, Fuerteventura, Gran Canaria and Tenerife. The islands have wonderful black and white sand beaches offering various watersports. 
The islands are volcanic and have dramatic landscapes. If you are in Tenerife before Lent, you can take part in the annual Carnival.
Malta
The lovely island of Malta is in the Mediterranean and enjoys a typical Mediterranean climate - hot and dry in summer and mild in the winter with plenty of sunshine but also some rain. January is the coldest month.
The former British colony is now fully independent and has a rich history, having been occupied by many different nations and peoples over the centuries. 
Valetta is the capital and there are other towns around the island. Malta has been a member of the European Union since 2004. 
Malta attracts well over a million tourists each year and is a popular port of call for Mediterranean cruises.
Cyprus
Cyprus is an island in the Eastern Mediterranean off the coast of Lebanon, south of Turkey. The island enjoys a sub-tropical climate and thus is a popular destination in the winter for Europeans looking to escape the cold.
The island has great beaches and many historic and ancient sites to explore.
English is widely spoken due to Cyprus being a British colony for many years. Cyprus is about a 4 hour flight from London and the currency is the Euro. 
There are hotels offering long stays in winter and some vacation rentals available on the island in places like Limassol, Paphos and Larnaca. Malta is also a popular medical tourism destination.
Other options…
Some other parts of southern Europe are likely too cold in January and early February but make wonderful options for visiting in March and April.  Consider the French Riviera – or the coastal regions of Sicily.
The Greek Islands are also warming up by then and so are the Balearic Islands of Mallorca and Ibiza, just off the Eastern coast of Spain near Barcelona.
If you go...
If you're thinking about Europe for your winter escape, you will want to take into account some of the following considerations:  
Safety

– Safety can be an issue when you are in Europe. Taking normal precautions should suffice and when in large cities, keep your valuables somewhere safe to avoid pickpockets.

Accessibility

– Some European destinations are harder to get to from Canada - and harder to get around, especially for those with mobility issues. Be sure to investigate before you go.

Proximity

– These European destinations are farther from home and may have fewer or more complicated travel options if you want - or need - to return to Canada quickly.

Health Care

– Health care might not be as accessible in some of these destinations and getting home for treatment may be more difficult.

Language

–Travelling in Europe can represent a challenge if you don't speak the language.  While English is more widely used in some destinations, you cannot rely on it and the signs will all be in the language of that country. 

Community

– Some of these destinations have relatively few Canadian snowbirds, a consideration if a big snowbird community is important to you.