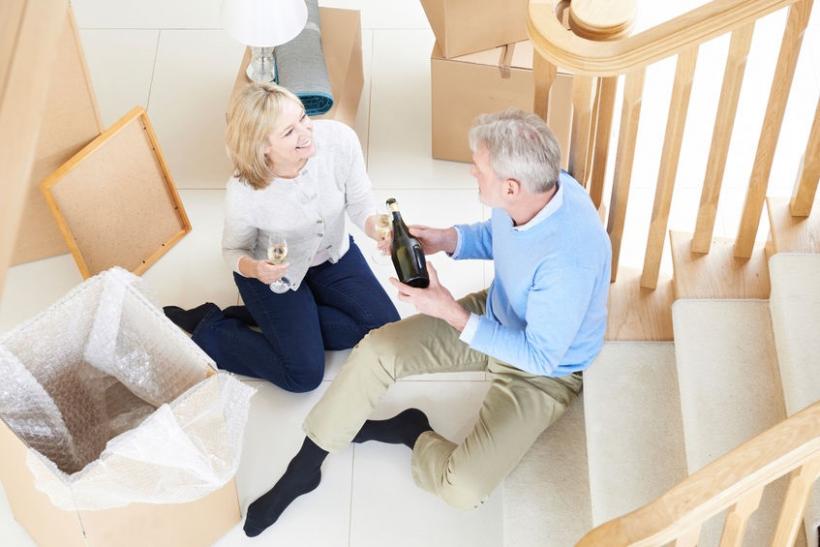 LAST UPDATED: June 13, 2023
Many snowbirds who spend several months away each winter find that downsizing their Canadian residence can be a great option that provides several benefits, including freeing up capital to fund their snowbird lifestyle or purchase a second home in their winter destination.
However, downsizing isn't right for everybody and you'll need to consider a number of factors to determine if it's for you, including where you live, your family dynamic and what type of lifestyle you want to have in Canada.
To help you determine if downsizing might be the right decision for you, we've explored the various options for downsizing, the benefits and drawbacks and what's involved if you choose to move forward.
What Are the Benefits of Downsizing?
The two main reasons most snowbirds downsize are to reduce their overall cost of living and unlock the capital in their house - assuming your house is worth more than the property you are downsizing to.
For many couples, it's a once-in-a-lifetime opportunity to realize a big financial gain after retirement - and it's normally tax-free, assuming that your home has always been designated as your primary residence.
When you sell your home, you'll have more money to spend on your everyday living expenses, fund your snowbird lifestyle and possibly purchase a winter residence, if you choose to do so.
But it is not all about the money! Downsizing usually results in a lot less home maintenance, which can simplify your life, free up time and reduce stress. It also makes it much easier to just lock up your Canadian residence when you want to travel or head somewhere warm for the winter.
Many people also enjoy the security and sense of community they find in a retirement community,  condo, apartment complex or cottage.
And for those who are fed up with walking up and down stairs all the time, a smaller home – often on a single floor - can be less demanding physically.
Is Downsizing Right for You?
To help determine if downsizing is right for you, ask yourself the following questions:
Do you have a substantial amount of equity tied up in your home?

Could you use some of that money to fund your snowbird lifestyle or day-to-day living expenses?

Do you want to buy a vacation property in your winter destination?

Do you currently need or use all the space in your home? Would you be happy in a smaller space?

How tied are you to your current neighbourhood or town? Downsizing might mean moving elsewhere

Are you or your spouse a packrat? Downsizing will mean serious purging (more about that later).

Do you have any dependents still living at home? If so, downsizing might not work for you yet.
Options for Downsizing
When it comes to downsizing your home, there are several options. The best one for you will really depend on your unique circumstances, lifestyle preferences and financial situation. Here are some of the most common options:
Retirement communities
More and more retirement communities designed for residents age 50+ are being built across Canada. Depending on the community, residence options can include bungalows, townhouses and apartments.
In the past, these communities were sometimes viewed as being for "old" people, but the reality couldn't be further from the truth.
Today's retirement communities are designed primarily with younger, active, vibrant residents in mind and many offer amenities, activities and services that appeal specifically to the 50+ crowd.
Moving to a city or town that is popular for retirees
For those who don't feel a planned retirement community is right for them, a good alternative can be moving to a city or town that has become popular with retirees, as they can offer many of the same benefits, and amenities offered by a retirement community without actually moving into a retirement community.
Some cities and towns across Canada that have become hotspots for people to retire include:
Niagara on the Lake, Collingwood, Kingston and Cobourg in Ontario

Victoria, Vancouver Island and Whistler in British Columbia

Saguenay and the Eastern Townships in Quebec

Saskatoon and Calgary in the Prairies

Halifax and Sydney, Nova Scotia and Fredericton, New Brunswick in the Maritimes
However, some people want to be near the larger hospitals and medical facilities that only large cities have, depending on their health issues. 
Downsizing to a condo
Condos have become ubiquitous all over Canada, but especially in larger cities. Condo living provides the ability to give up shoveling the snow, cutting the grass and most other chores that you have when you own a house - and condos allow you to stay in the same city, if that's important to you.
Condos also make it easy to travel – you just lock the door and leave (although be sure to check your insurance policy as there will be a requirement for someone to check on the place regularly). Condos also often offer amenities such as a party room and a gym - and some even have pools.  
The downside of a condo is that you will have to get used to a much smaller space and pay maintenance fees to cover the common elements and utilities, although these maintenance fees will often be far less than the annual maintenance costs you spent on your home.
Selling your home and renting a condo or apartment
Another option that many retirees take is to sell their home and rent an apartment or condo. This option frees up ALL of your equity in your home and for some people, makes the most financial sense. You can invest the money and live off the income it generates.
Selling your city home and moving to the cottage
Yet another option for those who own a cottage and who intend to spend the winters somewhere warm is to move to the cottage in retirement. Sometimes this means incurring the cost of winterizing and making other improvements to the cottage. However, it can be a viable option, depending on where the cottage is, how accessible it is in the winter and proximity to nearby towns, services, hospitals, etc… 
What to expect if you've decided to downsize
You will want to think long and hard about moving to a new location when you downsize, as there may be a few trade-offs. For example, if you have to move, are you leaving friends, family and grandchildren behind? If so, it can be tougher than you think. And if you do move to a different location than your family, then factor in the cost of frequent trips by car, train or plane for visits.
If you are considering moving to a smaller home or condo, start purging as soon as possible! Downsizing means downsizing in every way, including the amount of belongings, clothing, and household stuff you have. 
It can also mean getting rid of large pieces of furniture that just won't fit or look good in a smaller condo - you are better off buying some new condo-sized furniture.
And don't expect your kids to want your stuff - you will need to arrange for charities to pick up your donations or make many trips to charity shops like Habitat Re-Store and Salvation Army. Alternatively, you can try selling your furniture and other items on Facebook Marketplace and other online platforms before you donate it. Garage sales are also an option but they are a lot of work.
The bottom line is, if you do decide to downsize, it means downsizing in more ways than just moving into a smaller home.