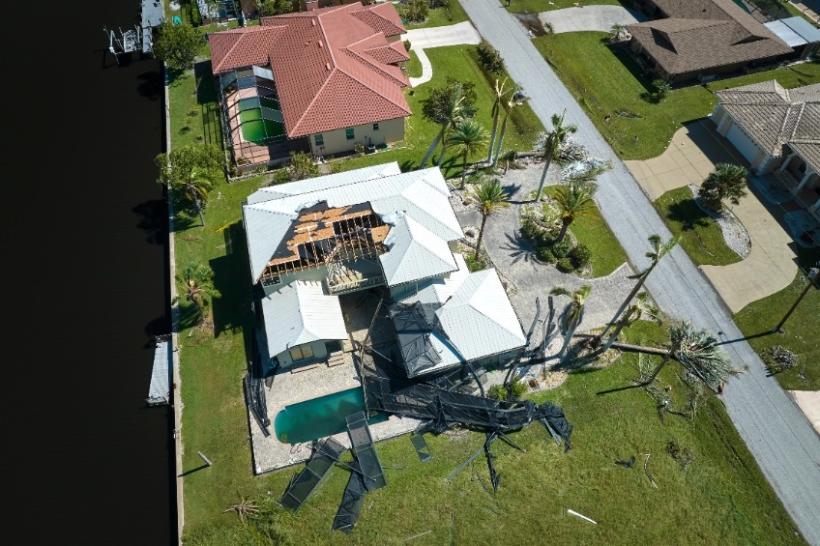 LAST UPDATED: December 7, 2022
Recent years have seen an increase in the frequency and severity of hurricanes in popular snowbird destinations, with Hurricane Ian being the most recent storm to wreak havoc in Florida.
Canadian snowbirds who own property in regions where hurricanes can happen should most definitely have hurricane insurance. 
And any snowbirds considering purchasing property in Florida – or other coastal areas vulnerable to hurricanes - should look into the cost of insurance before they purchase, as the location and other factors will determine the cost and availability of different types of coverage for the property.
To help snowbirds better understand the ins and outs of hurricane insurance, we interviewed KimberLee Brooks, an experienced Florida insurance broker based in Sarasota, Florida, who shared her insight into everything snowbirds need to know about hurricane insurance.
PLEASE NOTE: While this article contains specific references to Florida insurance laws and regulations, much of the content is applicable to other popular snowbird destinations where hurricanes occur - such as Texas, South Carolina, the Caribbean, and coastal Mexico. However, it is important to note that insurance rules and regulations differ in each jurisdiction.
What is hurricane insurance?
BROOKS: Full insurance protection of your property in the event of a hurricane would include purchasing both hurricane/wind insurance and flood insurance.
Hurricane/wind insurance will protect your home from damage caused by wind, such as the roof blowing off, flying debris, broken windows, etc.
Wind insurance will not cover damage from flooding, which is groundwater entering the property either from heavy rains or storm surges - the rising of ocean water because of atmospheric pressure changes and winds associated with a storm.
Hurricane insurance can be purchased to cover both the structure and the personal property within the structure.
Is hurricane insurance different than home insurance?
BROOKS: Most typical homeowner policies include coverage for wind/hurricane.
However, in Florida, there are higher-risk wind areas, called the wind pool. This area is defined by the state and includes the coastal and barrier island areas. Many insurance companies will not include wind on properties that are located within the wind pool. This is called an ex-wind policy. In this case, the homeowner policy will provide coverage for all the typical perils except wind.
The property owner would need to purchase a separate wind policy and a separate flood policy for protection in the event of a hurricane.
Who should have hurricane insurance?
BROOKS: Devastation and damage from hurricanes reach all parts of Florida.
The coastal areas are prone to more severe damage due to the power of a direct hit. However, the winds are extremely damaging inland as well. There is coverage available for most well-maintained properties in Florida, including mobile homes, RV's and beachfront properties.
In 2002, the state of Florida created Citizens Property Insurance Corporation as a not-for-profit, tax-exempt government entity to provide property insurance to owners unable to find insurance coverage in the private sector.
It is more difficult to find property insurance in coastal areas than inland. Newer homes, built to the current code are easier to insure than older homes. Factors that decrease the cost of wind insurance are:
Type of construction: concrete block is less costly than a frame home.
Shape of the roof: a hip roof is less costly than a gable or flat roof
Roof material: metal is stronger than a shingle roof and therefore, less costly
Roof attachments: a roof with clips holding it on the home is less costly than a roof with toenails holding it on the home
A home with shutters or impact windows will lower the cost
Florida has an inspection called the wind mitigation inspection. This inspection of the home looks at seven key areas of your roof to determine its ability to withstand strong winds and water intrusion. The seven factors are:
Construction Year of the home
Type of Roof Coverage and the Age of the Roof
Roof decking material and how far apart the nails are securing the shingles
Method used to attach the roof to the walls of the home (toenails, clips, single wraps, etc)
Roof geometry: the shape of the roof
Secondary Water Resistance: the type of material between the shingles and roof decking
Opening Protection: whether you have additional protections on the windows, doors, etc. This would include shutters, impact windows, etc.
Why should snowbirds consider buying hurricane insurance?
BROOKS: Everyone with property in Florida should have hurricane insurance, particularly in coastal areas. There is not an area in Florida that is not at risk of severe damage due to a storm. Flood insurance is recommended for everyone, but there are higher risk areas than others. Your agent can tell you if you are in a high-risk zone based on the FEMA guidelines.
How easy is it to get hurricane insurance?
BROOKS: The private insurance market in Florida is extremely limited at this time and the premiums have increased significantly. Not to mention that at least 5 carriers in the state have liquidated in 2022 alone. Other companies have closed writing new business or have voluntarily left the state. Less competition in the marketplace increases rates.
Florida legislative leaders have scheduled a special session Dec. 12- 16, 2022 to tackle the property insurance issues. Not only have the storms caused the crisis but litigation has also played a major role. Some legislators are calling for systemic reform, but we don't know exactly what that will be yet.
There are still many companies offering hurricane insurance, but they are more selective than ever with which properties they will take. The age of the roof is probably the single most important factor. Most insurance companies will insure homes with shingle roofs newer than 10 years and tile roofs newer than 20 years. The other major factors are the age of the home and the location. If there is no coverage in the private admitted market in Florida, the owner will need to seek coverage from either Citizens (the state company) or a surplus lines carrier. A Surplus Lines insurer is an unauthorized insurer that has been made eligible by the state to write certain property and casualty insurance business not written by an admitted/authorized insurer. A person insured by a Surplus Lines insurer does not have the protection of the Florida Insurance Guaranty Act if the company becomes insolvent. Surplus Lines insurance usually has a higher premium and includes surplus lines taxes.
How much does hurricane insurance cost?
BROOKS: There are two major factors affecting insurance costs in Florida - reinsurance costs and litigation.
There is extensive fraud in the state of Florida tied to roofing company scams. The roofing companies say they can get the homeowner a new roof and convince the owner to sign away the rights to their claim. The roofing contractors file suit against the insurance company for the claim's payment and because of the litigation, pay many more times the original claim. The owner gets a new roof, but everyone is paying for it through increased rates.
Reinsurance is the insurance for insurance companies. In other words, insurance companies transfer some of their risk to reinsurance companies to protect against catastrophic loss. These rates have skyrocketed due to disasters around the world, from hurricanes to hailstorms to typhoons on the other side of the globe.
How can I find hurricane insurance?
BROOKS: The hurricane insurance market is complicated in Florida, so it is best to find a knowledgeable, trustworthy insurance broker. An independent insurance broker will be able to provide the most and best options for property insurance.
Are there any special considerations for Canadian property owners?
BROOKS: There aren't really any special considerations for Canadian property owners. It is best for anyone considering a property purchase in Florida to explore the insurance costs as a significant factor when choosing which property to purchase. A good insurance broker can assist with this prior to the purchase.
The bottom line/top tips for getting hurricane insurance
BROOKS: As stated previously, the location of the property, age of the property and age of the roof specifically, as well as the wind mitigation factors, are major factors in the availability and cost of insurance.
The other major cost is flood insurance, so checking the property flood zone and the premium amount is also recommended. Flood insurance is required in high-risk zones if there will be a mortgage on the property. Flood insurance premiums can be expensive in certain areas.
KimberLee Brooks operates Brooks Insurance Group-- BIG SRQ – an insurance brokerage based in Sarasota and serving all of Florida. They specialize in all lines of personal products and services for businesses, individuals and families.  As a broker, BIG SRQ has relationships with over 75 different companies.  For more information www.BIGSRQ.com