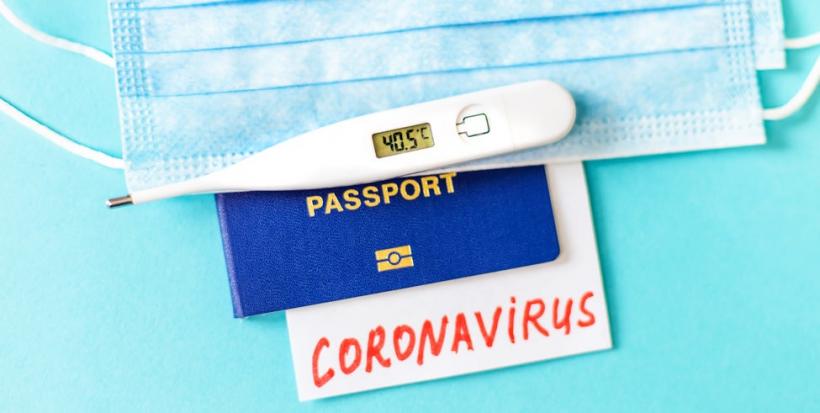 Last Updated: August 5, 2021
A lot has changed in the past several weeks with regard to COVID-related travel rules and restrictions that may affect Canadian snowbirds in the short term and possibly well into the upcoming snowbird season.
Here's a recap of the current status of these rules and restrictions. We will keep this updated when things change.
Unconfirmed report U.S. is developing plan for visitors to be vaccinated
On August 4th, 2021, Reuters reported that the U.S. is developing a plan that would require nearly all foreign visitors to be fully vaccinated against COVID-19 as a pre-condition to travel to the U.S.
At this time the report has not been officially confirmed by the U.S. government, so it is unclear if this plan is in fact being developed, and if it is being developed, what the requirements would be, when it would be implemented and how it would specifically apply to Canadian visitors. 
Snowbird Advisor is following this story closely due to the significant impact it may have on snowbirds and will provide updates as they become available.
U.S. land border remains closed for now
Even though Canada announced it will welcome fully vaccinated Americans for non-essential travel via the land border as of Aug. 9, 2021, the U.S. has not reciprocated.
In a move that surprised many, the U.S. extended its land border closure for non-essential travel from both Canada and Mexico until at least August 21.
In fact, President Biden has indicated that the U.S. land border will remain closed "indefinitely" due to the alarming rate of spread of the Delta variant in many U.S. states.
And while there is mounting pressure on the U.S. government by various border states and a number of senators to open the land border with Canada, there is no indication as to when this might happen.
Many snowbirds expected that the land border would be open to vaccinated Canadians by late summer or early fall, but if COVID case counts remain high in the U.S., it is possible that the land border could remain closed well into snowbird season.
Fully vaccinated Canadians no longer need to quarantine when returning to Canada
As of July 5, 2021, fully vaccinated Canadian citizens and permanent residents returning to Canada are no longer subject to the federal requirement to quarantine or take a COVID-19 test upon arrival or on day-8 after arrival.
Fully vaccinated Canadians will still be subject to Pre-departure and on-arrival PCR testing requirements.
Under the new rules, fully vaccinated Canadians must also be asymptomatic and provide COVID-19-related information electronically through ArriveCAN prior to arrival in Canada, including uploading a digital copy of their proof of vaccination papers to the ArriveCAN app.
Fully vaccinated Canadians will also still be required to present a suitable quarantine plan, and be prepared to quarantine, in case it is determined at the border that they do not meet all of the conditions required to be exempt from quarantine.
All travellers, regardless of vaccination status, will still be required to take a pre-arrival molecular COVID test within 72 hours prior to arriving in Canada.

For all unvaccinated Canadian travellers returning to Canada, COVID testing on arrival and day-8 testing remains mandatory, as does the requirement to quarantine. However, they will no longer be required to quarantine at a government-authorized hotel.
In addition to these new measures, beginning on August 9th, Transport Canada will allow 5 additional airports to resume international flights. Previously, only Vancouver, Calgary, Toronto and Montreal were permitted to receive international flights. Effective Aug. 9, the following airports will also be permitted to resume international flights: Halifax, Quebec City, Ottawa, Winnipeg and Edmonton.
You can find more information about these changes here:
U.S. citizens & international travellers
Effective August 9th, 2021, Canada will begin allowing fully vaccinated U.S. citizens and permanent residents to travel to Canada by air and land for non-essential purposes - including leisure and visiting friends and relatives.
Beginning on September 7th, 2021, these new rules will also apply to fully vaccinated international travellers.
You can find more information about these changes here:
Vaccine passports coming
At a press conference in Charlottetown, PEI, Prime Minister Trudeau confirmed the framework for vaccine certificates for international travel will be Ottawa's responsibility.
He added: "The federal government will be involved in the international level of certification, so we have a role to play to make sure that the credentials that Canadians have are going to be able to be accepted around the world but there are lots of active conversations with the provinces on what exact form that will take."
However, a report from Politico last month revealed that Canada will not have a national COVID vaccine passport system until at least this December. 
Quoting from a leaked government presentation from the Treasury Board of Canada, the Politico report says that Ottawa hopes to persuade all provinces and territories to issue standardized digital vaccine records by mid-Fall.
Without an official document, Canadians may face difficulties travelling to certain countries and regions in the future.