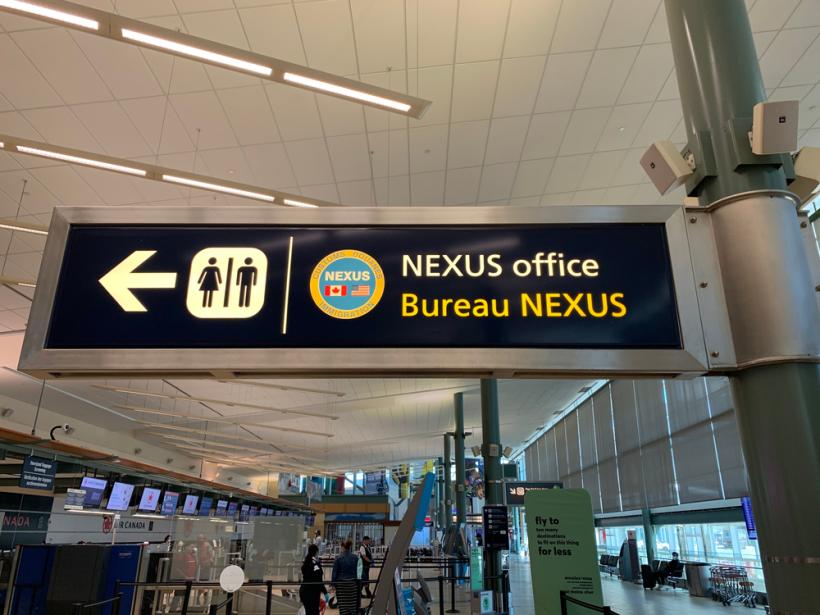 After a lengthy period of uncertainty about Nexus enrollment centres reopening, the Canada Border Services Agency (CBSA) and U.S. Customs and Border Protection (CBP) have announced more details about the reopening of NEXUS enrolment centres in Canadian airports across the country this spring.
During the pandemic, all NEXUS enrollment centres in Canada were closed and did not re-open once travel began to open up again.
Until recently, the only way that new or renewing NEXUS card holders could secure in-person interviews was to travel to the U.S. border sites that offered this service.  That still remains an option for people who are not flying to the U.S.  
While the reopening of airport NEXUS enrollment centres is welcome news, the new process is far from ideal and far less convenient than it was prior to the pandemic.
Prior to the pandemic, Canadians could schedule NEXUS interview appointments at major Canadian airports at any time and these interviews were jointly conducted by CBSA and CBP officers.
However, under the new process, NEXUS interviews at airports are only available for individuals while they are in the process of travelling to the United States. In addition, interviews with Canadian and U.S. customs officials will be conducted separately, with CBSA interviews taking place prior to clearing U.S. customs and CBP interviews taking place after travellers have completed the U.S. preclearance process.
NEXUS airport centres
Canadians can now book interviews at the following airports, with interviews beginning as of the dates listed below:
March 27
Halifax Stanfield International Airport (YHZ)
Winnipeg James Armstrong Richardson International Airport (YWG)
April 3
Vancouver International Airport (YVR)
April 12
Calgary International Airport (YYC)
Edmonton International Airport (YEG)
April 17
Montreal-Trudeau International Airport (YUL)
April 24
Toronto Pearson International Airport (YYZ)
Ottawa Macdonald-Cartier International Airport (YOW)
How it works
According to a news release from the Canada Border Services Agency, the new enrolment option for air travellers has two steps:
Canadian airport enrolment centres will be staffed with CBSA officers who will complete the Canadian portion of the NEXUS interview
U.S. interviews will be completed by CBP at Canadian airport preclearance locations when applicants depart Canada to fly to the U.S.
Conditionally-approved NEXUS applicants and renewing members who require an interview will be able to book the Canadian portion of their interview at one of these airports through the Trusted Traveller Programs scheduler.
No appointment is required for the U.S. portion of the interview, but applicants should give themselves extra time before their flight. Applicants can refer to the CBP NEXUS enrolment centre website to confirm operating hours.
Applicants must complete their two NEXUS interviews in the same mode – either land or air – but not a combination of the two.
Total of 3 options now available for NEXUS interviews
The new airport option is not the only option available to Canadians, however.  There are now three options for NEXUS interviews—two at land enrollment centres and the new airport enrollment centres.
A joint U.S. - Canada interview at a land enrolment centre (14 locations) in the U.S.
A split interview at a Canadian land enrolment centre (2 locations) followed by an interview at a U.S. land enrolment centre (Canadian interview is conducted at the Canadian enrolment centre and the U.S. interview completed at the corresponding U.S. enrolment centre located just across the border at the port of entry).
A two-step interview at a Canadian airport enrolment centre (8 locations), followed by an interview at a U.S. preclearance location in a Canadian airport. 
Renew before expiry to get a 5-year extension
Existing members who renew their membership prior to the expiry date will have their benefits extended for up to five years to allow for the scheduling and completion of interviews, as required - if they have not been auto-renewed.
More Information
You can find more information about the new appointment process for airport NEXUS enrollment centres at the following official government resources from the CBSA and CBP: