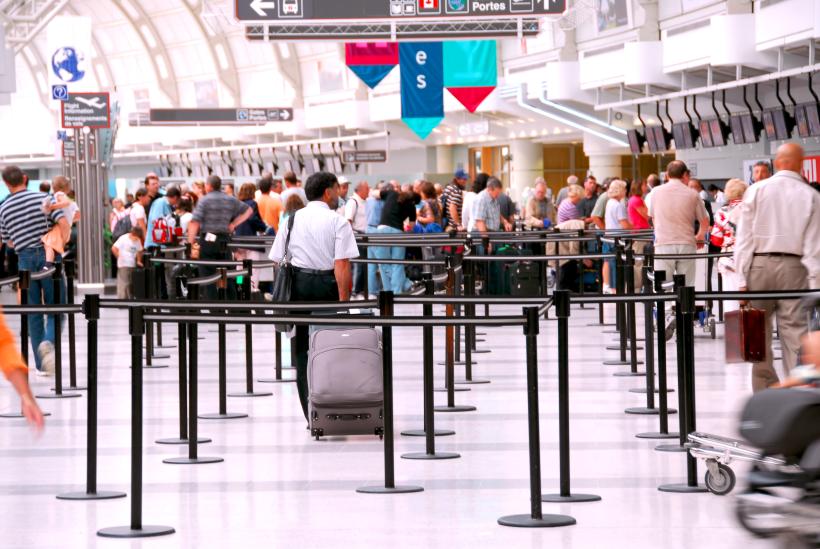 LAST UPDATED: February 9, 2023
Another NEXUS interview option is coming this spring for Canadians when flying to the U.S., and while this new option is far from ideal, it should help further reduce the backlog in NEXUS enrollment and renewal applications.
What caused the NEXUS application backlog?
During the pandemic, NEXUS enrollment centres in Canada were completely shut down due to COVID-19 concerns. To make matters worse, Canadians wishing to enroll or renew in the NEXUS program are still unable to conduct interviews with U.S. Customs and Border Protection (CBP) agents at Canadian enrollment centres – not because of COVID-19, but due to an ongoing political dispute with the U.S.
All of this has led to a huge backlog in NEXUS enrollment and renewal applications, although the CBP and CBSA claim to have completed over 200,000 NEXUS enrolments since October, reducing the net backlog by approximately 100,000 from its peak last summer.
New NEXUS interview option
The Canada Border Services Agency (CBSA) and U.S. Customs and Border Protection (CBP) are introducing a new plan to expand enrolment capacity for new applicants and renewals in Canadian airports with U.S. pre-clearance facilities.
However, the new option will not be available until Spring 2023 and will only be available for people when they are travelling to the U.S. by air.
The new process will feature a two-step process:
The Canadian portion of the NEXUS interview will be conducted by CBSA officers at Canadian airport enrolment centres. Applicants must book an appointment online in advance for this portion of the interview.
 

The U.S. portion of the NEXUS interview will be conducted separately by CBP officers in the U.S. preclearance area of a Canadian airport before departing for the United States. Applicants will not need to book an appointment for the U.S. portion of the interview, however, it's important for applicants to build in enough time to their travel plans for this part of the interview.
Land border locations remain an option for NEXUS interviews
Canadians can still schedule joint interviews with CBP and CBSA officers at select land border enrolment centres located in the United States.
In addition, a pilot project involving a split interview process is offered at two land ports of entry – where the Canadian interview is conducted at the Canadian enrolment center in Canada, and the U.S. interview is completed at the corresponding U.S. enrolment centre located across the border. 
This process is currently available at the Lansdowne, Ontario (Thousand Islands) border crossing and the Fort Erie, Ontario (Peace Bridge) border crossing enrolment centres, but will likely be expanded to other border crossings in the future.
There is also a new NEXUS enrolment centre in Ogdensburg, New York, with CBSA and CBP officers conducting joint interviews.
A further location will open in Houlton, Maine (Houlton – Woodstock border crossing) on February 10th, 2023, where CBSA and CBP officers will work together to conduct joint interviews. This location will only be open on Fridays and Saturdays, and NEXUS applicants are now able to schedule their interviews through the CBP's Trusted Traveler portal.
NEXUS interviews on Zoom?
Meanwhile, a congressman from New York has proposed that Zoom should be used for the U.S. portion of NEXUS interviews.
Rep. Brian Higgins has introduced legislation that if passed, would require the U.S. Department of Homeland Security to use virtual Zoom interviews as an alternative to in-person interviews for NEXUS applicants.
We will report any material developments related to this proposed legislation if and when they happen. 
More information
For more information about the new NEXUS interview option to be introduced for air travellers as well as land border interview options, please visit the following links: