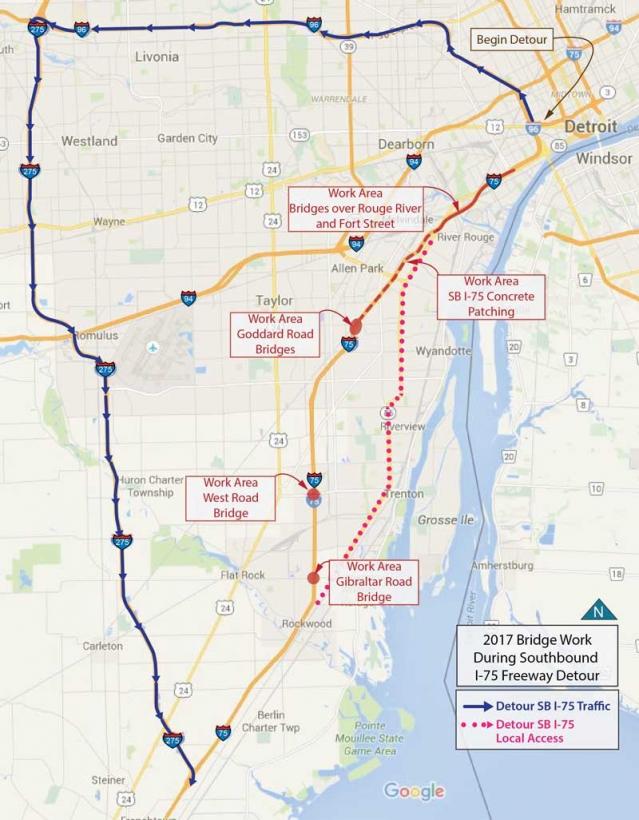 CORRECTION: The original version of this article had a typo stating that the detour was 305 miles. The detour is actually 35 miles. The typo has since been corrected. We apologize for any inconvenience.
As of Saturday Feb. 4, 2017 a section of I-75 is now closed for 2 years to undergo a massive repair and reconstruction of bridges south of the Windsor Ambassador Bridge crossing.
This will affect the many snowbirds and their families who use this route to travel south from Ontario to Florida.
However, it will NOT affect the drive back to Canada, as the northbound lanes will be kept open –although there will be slowdowns as there will be lane reductions.
This will mean a 35 mile detour for all traffic for the next two years on I-96 west to I-275 south returning to I-75 farther south.
Millions of cars and trucks use this route every year and the detour route is expected to be congested.
The main bridge being rebuilt is the Rouge River Bridge, which was built in 1967. It is deteriorating badly and work could not be delayed any longer. The two year project also includes many other bridges along this stretch of I-75 in Michigan.
Drivers are used to ongoing construction on I-75 and there are many other projects along the route to Florida, but this one will impact Canadians crossing in either Sarnia or Windsor for the next two years.