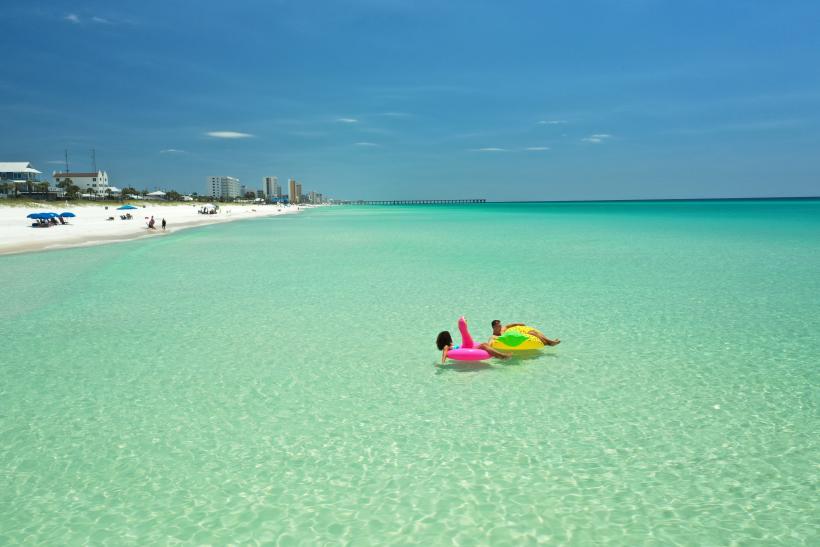 Imagine crisp clean air, shimmering waters, and gorgeous sunsets. That's what snowbirds can expect when they dip their toes into the sugar-white sand of Panama City Beach. With 320 days of sunshine annually and 27-miles of beaches to choose from, the area has long been favoured by snowbirds returning each year for the climate, locale, and the destination's charming hospitality. The Real. Fun. Beach. is a place to do as little or as much as you'd like! No matter how you want to spend your time in Panama City Beach there is plenty of fun to be had!
The cooler months when snowbirds are here are the perfect time for exploring the bounty of nature at PCB's many parks and beaches. Outdoor enthusiasts looking to jump right in and explore the turquoise waters can pass the winter months by with one of our many water-based activities including sailing, kayaking and dolphin tours. It's not uncommon to swim across a dolphin at Shell Island, spot a Snowy Plover hiking through Camp Helen or sail past a sea turtle on a boat cruise. Our scenic hiking trails and high-clarity water in the fall months offer visitors a view of migrating birds, bottle-nose dolphins, manatees, alligators, egrets, turtles and so much more! Remember the essentials when packing – binoculars, a camera, and excitement because you'll discover plenty of distinctive wildlife viewing opportunities in Panama City Beach.
After a day of exploring above, below, and on the water it's time for a little retail therapy. Friends and family will expect a souvenir from paradise and the best way to find that perfect gift is the Décor by the Shore shopping trail which features a vast selection of stores and shops specializing in coastal-themed antiques, furniture, gifts, and accessories. With an ever-growing list of locations in Panama City Beach offering one-of-a-kind coastal décor, visitors will enjoy every minute while shopping for fun finds during any season.
Relaxation, sightseeing, and shopping are sure to work up an appetite! Lucky for our visitors that Panama City Beach's unique geography makes it an ideal locale for fresh coastal cuisine inflected with Cajun, Gulf Coast, and American Southern traditions. Whether you yearn for fresh-caught fish, hanker for barbecue, or crave the down-home heat of a hearty gumbo, you'll find what you're looking for in Panama City Beach. In addition to the beach's authentic, local restaurants, Panama City Beach hosts some of the area's premier food and drink festivals, including the annual craft beer, wine, and spirits festival, UNwineD, as well as Oktoberfest and the annual Food Truck and Craft Beer Festival. The fun continues in Panama City Beach for our winter residents with social events, educational classes, arts & crafts, and parties to enjoy! A not-to-be-missed event is the destination's annual Homecoming Dance and Senior Prom as well as our many Winter Resident appreciation days where you'll find complimentary coffee, donuts, and friends!