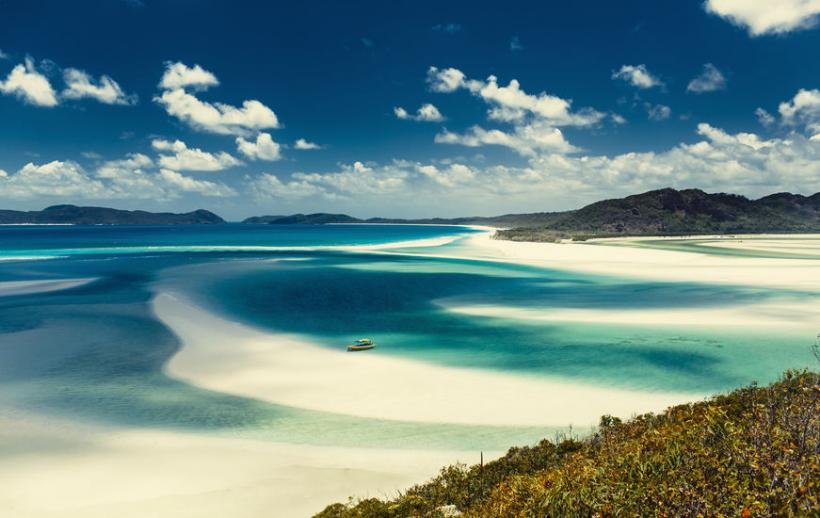 Today's snowbirds are much more adventurous than their predecessors and many now have the time to explore far away destinations for weeks or months that they've never been to or have only visited for a short time.
For snowbirds who want to explore farther afield, Australia, New Zealand and Southeast Asian countries are all on the map. And because they're on the other side of the equator, our winter is their summer, making it an ideal time to travel there!
If you're intrigued by this option, we've covered some hot-spots in the region where Canadian snowbirds traditionally stay for extended periods of time.
Obviously, the flights are much longer and will be more expensive, and you'll likely want to rent a car when you are there to go exploring, so these costs would have to be factored into your budget.  However, the cost of living is generally quite affordable once you get there.
As far as accommodations go, tour operators specializing in the region offer "long stay" programs that include accommodation options for a month or more and are often bundled with a flight, which can be more affordable than booking everything separately yourself. We recommend that you consult an experienced travel agent for advice and assistance.
Of course, you also have the option to seek out long-term rental or hotel accommodations on your own.
Another option is to explore the region by cruise ship, which we'll cover further down in this article.
Australia
While it's a very long way to go, Australia can be quite affordable once you get there. And the exchange rate is generally favourable compared with many other countries vs. the Canadian dollar. The fact that Australia's summer falls during our winter months also makes it an ideal place to escape to in the winter. 
Australia is a vast country with so much to see and explore, and while you may want to travel extensively during your time there, most snowbirds are attracted to Australia's east coast north of  Sydney, continuing up through Brisbane all the way up to the fabulous Great Barrier Reef.
There are many different types of accommodation available for long-term rentals and living costs can be quite reasonable. Another advantage is that everyone speaks English - albeit with a unique accent - and you'll enjoy Western cuisine everywhere. Add to this the many wonderful Australian wines and what more could you ask for?
Getting there, however, is a very long flight from Canada. Some people like to break up the trip by stopping in Hawaii, Fiji or the Cook Islands along the way.
The Gold Coast
The famous Australian Gold Coast is a region that stretches south of Brisbane on Australia's east coast. Famous for its expansive sandy beaches and fabulous surfing, the area also has many inland canals and waterways.  A popular tourism destination, the Gold Coast has its share of theme parks and activities but the area is also great for hiking in Lamington National Park and attracts bird watchers and nature lovers to see its rare birds and explore the rainforest and waterfalls.
But the main attraction here is the beaches and the world-famous Surfers Paradise. You'll also find lots of great restaurants and bars.
The Central Coast
The Central Coast in New South Wales embraces the Pacific Ocean just north of Sydney. Here you'll find towns such as Hardys Bay, Terrigal and Avoca Beach which are known for their lovely beaches and amazing surfing.  
An hour north of Sydney, the Central Coast attracts a lot of locals and tourists on weekends but is also a suitable destination for snowbirds. 
The area includes lovely beaches, pretty local villages, many boutique hotels and apartment rentals set on a spectacular coastline. There are also several national parks nearby.
The Sunshine Coast
The Sunshine Coast is the name given to the Pacific beaches and surfing area in southern Queensland, which lies north of Brisbane up to the Cooloola section of Great Sandy National Park. The region has beautiful sand dunes and mangrove forests. You'll also want to explore Noosa Heads for shopping, and active snowbirds can go hiking in Noosa National Park.
New Zealand
New Zealand is a country of awe-inspiring scenery and dramatic landscapes including the so-called Southern Alps. 
New Zealand is located in the southwestern Pacific Ocean and has two main parts - the North Island and the South Island. The scenery owes its heritage to the volcanoes and geographical shifting that created the mountains formed ages ago.
Located about 900 miles east of Australia across the Tasman Sea, New Zealand is about 600 miles south of New Caledonia and Fiji. New Zealand's capital is Wellington but its largest city is Auckland.
New Zealand generally has a much cooler climate than much of Australia and a lot more rain in some regions. However, New Zealand also has subtropical regions in the north of the country, where it can be very warm during their summer season.
Many visitors rent a car to tour the islands, while others explore on foot, as there are lots of spectacular hiking opportunities.
Bay of Islands
The Bay of Islands is a subtropical region near the top of the North Island that attracts many tourists and is an ideal spot for snowbirds to spend some time. It is very beautiful and has an interesting history - but it's the beaches and watersports that are the big draw.
The Bay of Islands is actually on the east coast of the North Island near the tip. Hugely popular for fishing, sailing and big game fishing, the Bay of Islands is made up of 144 islands between Cape Brett and the Purerua Peninsula. There are many small quaint towns in the area including Opua, Russell and Kerikeri.
The region is a three-hour drive or 40 minute flight from Auckland. Snowbirds can choose from apartments, guesthouses, historic inns, lodges, motels and holiday parks.
You can explore the subtropical rainforests, take ferries to get around and enjoy the wildlife which includes penguins, dolphins, whales and many birds.
Bay of Plenty
Another region where snowbirds can spend longer periods is the Bay of Plenty. Located on the northern coast of the North Island, the region stretches from the Coromandel Peninsula in the west to Cape Runaway in the east, a vast open coastline.
The area is aptly named with many orchards and gardens producing fresh fruit and vegetables. The Bay of Plenty is also home to local wineries and there's always fresh seafood on offer. Whale watching is a big draw, where you can see blue and humpback whales migrating.
There are many places to visit including Mount Maunganui, near Tauranga, where you will find spectacular surfing beaches. White Island has an active volcano and you can walk the rim. The area also has hot springs and spas thanks to the volcano.
Nearby Rotorua is very popular for its geothermal areas and Māori cultural centres.
The Bay of Plenty has a maritime climate with warm summers and mild winters. It is one of the warmest regions in New Zealand with plenty of sunshine.
The area has lots of long-term accommodation options such as long-term hotels, apartments, motels, holiday parks and more.
Thailand
Thailand is a major Southeast Asian destination where the cost of living is extremely reasonable and you can find great contrasts - from bustling Bangkok to the unspoiled pristine beaches and elephant sanctuaries on the beautiful islands.  
The country has an endless list of fascinating places to visit. If you go to Thailand, you're likely going to want to tour around before settling on an island or oceanfront resort area.
Snowbird stays are becoming more popular and living in Thailand for an extended time really allows you to discover this wonderful country, explore the exotic culture, learn about their food and history. 
Phuket
The island of Phuket has long been a favourite retirement destination for people from around the world, offering beautiful beaches, great restaurants, amazing scenery and an abundance of watersports.
What can you do in Phuket? How about Elephant Trekking, canoeing through mangroves, sailing or a round of golf. Of course, you can also swim in the ocean, relax by the pool and explore the island.
Snowbirds can rent condos and villas - or stay in hotels, guesthouses and resorts.
Hua Hin
Hua Hin is another favourite destination in Thailand with white sand beaches, tropical vegetation and world-class golf courses. Many foreigners have established a second home here.
The Black Mountain Golf Course in Hua Hin is considered the best championship course in Thailand and one of the best in Asia. Don't pass up a chance to play this challenging course.
You can see Thai Boxing here and learn about the national sport. The area also boasts many good restaurants and amazing views.
Chiang Mai
Chiang Mai is in northern Thailand and is a must-see if you are in the country to visit its historic temples and museums - don't miss the spectacular Wat Phrathat Doi Suthep temple.
The area is also food mecca, offering visitors many cooking class opportunities, including the Chiang Mai Thai Cookery School which has taught visitors from around the world about Thai cuisine.
Southeast Asia
If you are taking the long and costly flight across the Pacific for your winter sojourn, you may want to do some touring along the way in Hawaii, Fiji, the Cook Islands, Vietnam, Laos, Malaysia and Indonesia - depending on your route.
It's best to work with an experienced tour operator or travel agent who knows the region to help you make arrangements and choose the right airline options.
South Pacific Cruises
Just a brief mention here that you can also reach Australia, New Zealand and Southeast Asia by cruise ship. For some, this is a preferable way to see the region than flying. Or you can sail one way and fly home. Many of the major cruise lines offer itineraries that incorporate all - or part - of the region, with trips ranging from a month to three months.
You can learn more about long-term cruise options for snowbirds here.
Things to Consider
If you're considering a winter in Southeast Asia or the South Pacific make sure you take the following factors into account. While they're important, they can usually be overcome or managed if you have the desire and motivation to do so and want to experience the benefits.
Safety – Safety can be an issue when you travel to foreign destinations. Best advice is to take normal precautions and stick to safer areas that cater to foreigners.
Accessibility – Some destinations are harder to get to and from - and harder to get around, especially for those with mobility issues. Be sure to investigate with your needs in mind.
Proximity – These destinations are far from home and have limited travel options if you want or need to return to Canada quickly.
Health Care –Depending on where you are, health care might not be as accessible or have the same high quality as North America, and getting home for treatment may be more difficult.
Political Stability – Some exotic snowbird destinations have less stable governments than more traditional destinations, so be sure to check the Canadian government site www.travel.gc.ca for information about your destination.
Language – English is more widely used in some destinations than in others, which can make travel to some Southeast Asian countries a challenge if you don't speak the language.
Water – Of course, bottled water is always the safest when you travel away from home.
Community – Some of these destinations have relatively few Canadian snowbirds, a consideration if a big snowbird community is important to you.