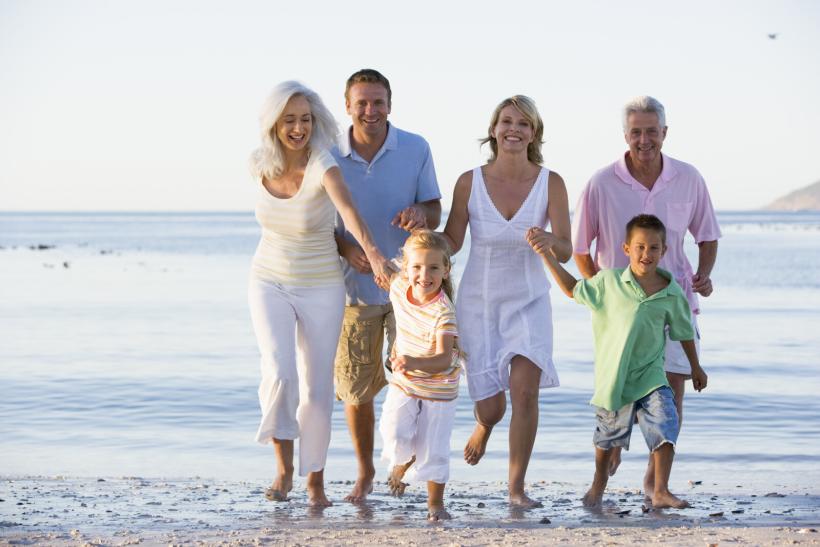 LAST UPDATED: February 7, 2023
For many snowbirds, one of the great pleasures of the winter season is having your kids and grandkids come to visit, whether it's over the Christmas holidays, March break, Easter, or some other time.
This may be one of the only times you get to spend extended time with them, so you'll want to make the most of it.  
However, spending time with grandkids can be hectic, so it's important to make sure you plan ahead and build in some downtime for yourselves so you don't burn out!
To help snowbirds make the most of your time when the kids and grandkids come to visit, we've created the following guide with some general tips, as well as specific activities in select popular snowbird destinations.
The logistics!
There are lots of things to think about before the family arrives. For example:
Will you need an extra car?  If so, either the kids can rent one for pick up at the airport, or you can rent an additional one for the time they are there and lend them yours.  And remember to arrange for infant car seats or booster seats if your grandkids need them.

Be sure to book any rental cars well in advance and shop around for the best deal, as there's still a shortage of rental cars and prices have gone up considerably since the pandemic.

What about sleeping arrangements? If you have babies or toddlers arriving, you will need a lot of accessories! It is much easier to rent them locally than buy - you can rent cribs, crib sheets, highchairs and more!





You can also rent strollers, beach strollers, swim aids for babies and toddlers, tricycles and bikes-- and many other things. Check out local rental companies in your area.

Make sure you stock your pantry with all the kids' and grandkids' favourite foods, especially breakfast foods for the first morning!
Things that cost nothing
If you are close to a beach, that's an activity that will keep everyone entertained for hours on end - whether it is building sandcastles, collecting shells, or watching the waves roll in.
A swimming pool is also an excellent way to keep kids happy every day. Make sure you have stocked up on towels for everyone before they arrive!
Check out your neighbourhood for good playgrounds, parks and hiking trails.
Local Fairs and Events
A number of popular snowbird destinations have local county fairs – complete with rides and games, etc. - as well as different types of festivals during the winter months. These are usually well promoted locally but you can also find out what's coming up in your general area by checking local news websites, newspapers and community magazines.  
Local rodeos and horse shows are also fun to watch for the entire family.
Wildlife and animal sanctuaries
Depending on where you are located, there are often wildlife sanctuaries you can visit to see all sorts of local creatures and birds.
Aquariums are also fascinating to visit for children and adults. And in Florida, there are attractions that feature alligators in their natural habitat. 
Sporting events
MLB
Sporting events are also a great way to entertain the family, especially MLB Spring Training - if you are in Florida (Grapefruit League) or Arizona (Cactus League), there are spring training facilities and games taking place from late February to late March. Tickets are not expensive and it is a great way to get up close to the players and the game. You can learn more here: https://www.mlb.com/spring-training
NHL
Some NHL teams are located in snowbird states and it can be easier (and less expensive) to get tickets than it is back home in Canada.
You'll find NHL teams based in or near these cities:
Nevada: Las Vegas

Florida: Tampa & Sunrise (near Miami) 

California: Los Angeles, Anaheim & San Jose

Arizona: Glendale & Tempe
NBA
If you have basketball fans in the family, there are NBA teams playing in the following cities:
Florida: Miami & Orlando

California: Los Angeles, Sacramento & San Francisco

Arizona: Phoenix

Texas: Houston & San Antonio

Louisiana: New Orleans
Equestrian
If you are in Florida, some of the top equestrian athletes can be seen competing every week at Wellington, just west of Palm Beach.  
For details visit: https://www.thepalmbeaches.com/top-event/winter-equestrian-festival
Major attractions
There are many big attractions that are great for taking kids and grandkids. Some of these are not cheap but worth it once the kids are the right age. 
Arizona
California
Sesame Place - San Diego, CA



Sesame Place San Diego features seven Sesame Street-themed rides, an interactive musical play area and 11 water attractions, including a 500,000-gallon wave pool — one of the largest in Southern California. The park also has an interactive Sesame Street Neighborhood complete with the iconic 123 Stoop, live character shows and daily parades.

San Diego Zoo – San Diego, CA



The famous San Diego Zoo is a 100-acre wildlife park and home to over 12,000 rare and endangered animals.  Located just north of downtown San Diego in Balboa Park, the Zoo is also an accredited botanical garden, caring for more than 700,000 individual plants.

Theme parks near Los Angeles CA

Los Angeles competes with Orlando for theme parks and amusements.   Disneyland Park and Disney California Adventure Park are here along with Universal Studios Hollywood, Knott's Berry Farm, Six Flags Magic Mountain and Legoland.
Florida
Attractions in Orlando/Kissimmee, FL

Without question, Orlando & Kissimmee in Florida is probably the largest centre of theme parks and amusements in all of the U.S. - if not the world.

You will find major theme parks, including 11 as part of Walt Disney World alone - as well as Universal Studios, Legoland, SeaWorld, Gatorland and others.

These parks are extensive and a visit takes some planning. Unless you are based very near Orlando, you may want to stay a couple of nights in the area in order to take advantage of more than one.

It is also worth doing some homework online to figure out the best pricing and look for special promotions.
Busch Gardens - Tampa, FL



Busch Gardens has long been a family favourite for people visiting the Gulf coast area near Tampa.





This

family-oriented theme park features up-close encounters with exotic animals, thrill rides and live entertainment. With nearly 12,000 animals representing more than 300 species, the park's zoological collection is a big attraction for families. 
Myakka River State Park - Venice, FL



Myakka River State Park is a Florida state park that offers a great insight into what Old Florida looked like.  There are wildlife tours by boat or by tram, a Canopy Walkway and a Birdwalk viewing station. You can also camp at Myakka and go hiking.

Everglades National Park – FL

Everglades National Park offers an important protected wetland

that is a natural habitat for numerous rare and endangered species like the manatee,  American crocodile, and the elusive Florida panther. Located west of Ft. Lauderdale and Miami areas, you can explore the park with various tour companies by kayak, airboat, etc…

Kennedy Space Center

– Cape Canaveral, FL





A great experience for older children and adults to learn about space travel. Take a virtual flight to 

Mars, Trappist-1, a Horsehead Nebula, Saturn, Jupiter, and more during the motion theater ride. There is a height minimum of 99 cm or 39 inches.

Cox Science Center & Aquarium

- West Palm Beach, FL





The family will enjoy exhibits, interactive displays, and outdoor adventures at the Cox Science Center & Aquarium.  There are 100 new hands-on exhibits, an upgraded planetarium, 1,000 square-foot early childhood exhibit, a modernized theater, a science lab, an open-air amphitheater, and an 18-hole miniature golf conservation course that was named one of the "Top Thirteen Miniature Golf Courses in the nation" by Travel Magazine.
South Carolina
CAN-AM Days - Myrtle Beach, SC

Visitors

from Canada can take advantage of an array of exclusive deals and offers when planning their next visit to The Beach's 100 km of coastline and 14 unique communities. Additional information, full offer listings, and Canadian Travel FAQs.

Ripley's Aquarium – Myrtle Beach, SC



Ripley's Aquarium is introducing all-new experiences in Myrtle Beach this spring.  These exciting, family-friendly attractions include the notable Sloth Valley habitat – bringing guests face-to-face with the adorable, two-toed species – as well as the Ripley's Illusion Lab, Ripley's Crazy Golf, Ripley's Mirror Maze expansion and Ripley's Haunted Adventure.
Texas
Beach Park at Isla Blanca – South Padre Island, TX

This large indoor and outdoor amusement park next to a South Padre Island beach will keep the grandkids occupied for a while!  The park is right on the beach and has uphill water coasters, a surf machine and lots of kids' areas.  Reserve a cabana for the day with wait service!
Gravity Park – South Padre Island, TX

Gravity Park is an amusement park located on South Padre Island with activities for all ages. The park features reverse bungee, go-karts, mini-golf, and more attractions. The park also has a multi-level go-karts track, an 18-hole mini-golf course, a 60-foot Ferris wheel, the rocket, and the sky coaster. Gravity Park's kiddy rides have kiddie go-karts, trampoline rides, a climbing wall, and an arcade.