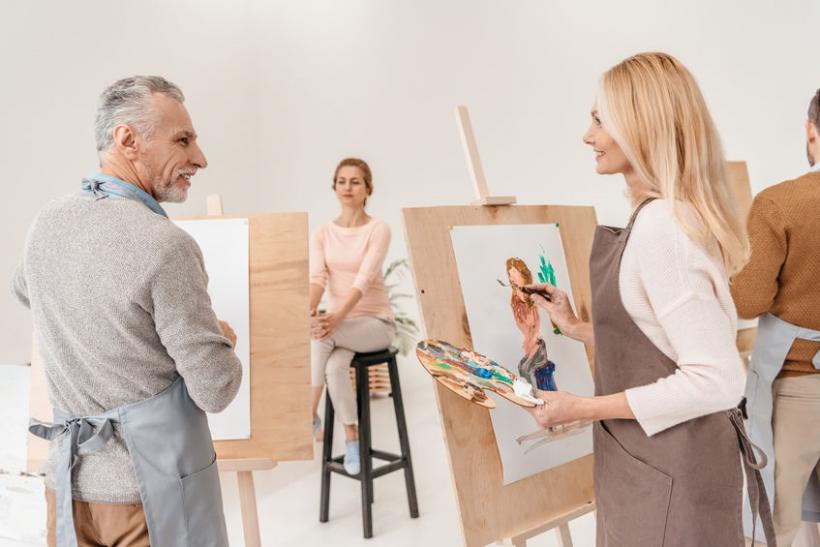 Living the snowbird lifestyle means splitting your time between your home in Canada and your winter residence, which means your winters away aren't really a "vacation", but more of a "relocation".
For many snowbirds this means finding ways to keep busy over the winter – you can only play so many games of golf, tennis or pickleball! 
One of the wonderful things about retirement is that you are given the gift of time - time you never had when you were raising your children, building a career and working. 
For many retirees, this provides the opportunity to learn a new skill or subject that you've always been interested in but have never had the time to pursue. 
Lifelong learning can mean everything from taking a cooking class to learning a new language to studying history – and just about everything in between.
If you're interested in joining the growing trend of using your winters away as an opportunity to expand your knowledge and skillsets, here are a few tips to help you get started.
What are the benefits of lifelong learning for snowbirds?
Whether you choose to attend classes or lectures (or take part in distance learning online), lifelong learning is a great option for snowbirds to stay busy, learn new things, keep their minds engaged and remain socially active.
The phrase "use it or lose it" most certainly applies to the brain. Being sedentary and not using your brain is not good for your health!
Remaining engaged in learning later in life can have significant health benefits. Mental activity will help your mind stay sharper and clearer and activities like learning a new language or how to play an instrument can help to offset decline. In fact, it can be considered a useful treatment for people suffering from degenerative conditions to delay symptoms. 
There are also emotional benefits – continuing to learn builds self-confidence, fights depression, boosts self-esteem and keeps you more socially active.
Remember the three pillars for a successful life in retirement are: social engagement, physical activity and keeping your mind engaged. Lifelong learning goes a long way to providing two of these!
What types of classes are available?
The variety of classes available to you will, of course, depend on your destination. Some destinations offer more options than others, and proximity to a college or university will broaden your options.
When choosing a course, one of the first things you'll want to consider is the type of learning you want to engage in. Generally, these can be broken down into two main categories: skills, like painting, cooking and language classes; and academic subjects like history and politics. Defining what you're after will help narrow down which classes are offered in your destination and where to look for these classes.
It's also important to decide how much time you want to devote to this new endeavour. Is it 2 hours a week, or 10 or 20?  Do you want to do homework? Are you willing to do all the reading required? Do you have any health issues you are going to have to work around? Be realistic in what you're signing up for depending on your schedule, energy level and any other demands on your time.
And if you're spending the winter in a foreign country, you may be able to can take advantage of unique local opportunities such as learning Spanish (if you winter in Mexico or Central America), taking cooking classes that feature local cuisine, studying the local history and culture or learning about the ecosystem in your winter destination.
There are many different types of classes you can sign up for.  Here are just a few examples:
Skills
Art classes

Cooking classes

Crafts

Music & Singing classes

Language classes

Acting Classes

Health & Wellness

Computer skills

Gardening

Personal finances and investing

Nature classes
Academic Classes
Art history

Music history

Politics

History

Literature
Who offers lifelong learning classes?
Educational facilities such as colleges, universities and schools have realized that offering adult education courses is a great source of supplemental income. Be sure to check these out in your area, but keep in mind that you will need to find courses that fit into your winter dates and not the school year.
Some classes cater specifically to snowbirds and seniors and may have flexible start dates or be scheduled specifically to coincide with the snowbird season.
And if you're unable to attend in person due to health issues or a lack of transportation, some of these institutions also have options that allow you to study online.
Other options for learning can be found at local community centres, private schools, clubs, churches & synagogues, YMCA and YWCA, museums, etc…
Costs can vary depending on which organization is offering the course, and you can sometimes find free courses at community centres and religious facilities.
How to find lifelong learning opportunities in your winter destination
It's best to research your lifelong learning opportunities online ahead of the winter season so that you are aware of who is offering classes, the types of classes that are available, registration deadlines, costs and class dates. Try Google searches such as "classes and courses for snowbirds and seniors in [your destination]".



If you have challenges with computers and technology, a computer course might be the first course you want to take…so that you are comfortable working online and researching, etc.

Ask other snowbirds and neighbours in your destination if they have taken any courses or classes, and consider joining local seniors' and snowbird groups, as they may know of local learning options as well.

Check out local newspapers and websites, as well as the local Convention & Visitors' Bureau and Visitors' Centre.

Search local community centres, universities and colleges for adult education courses.