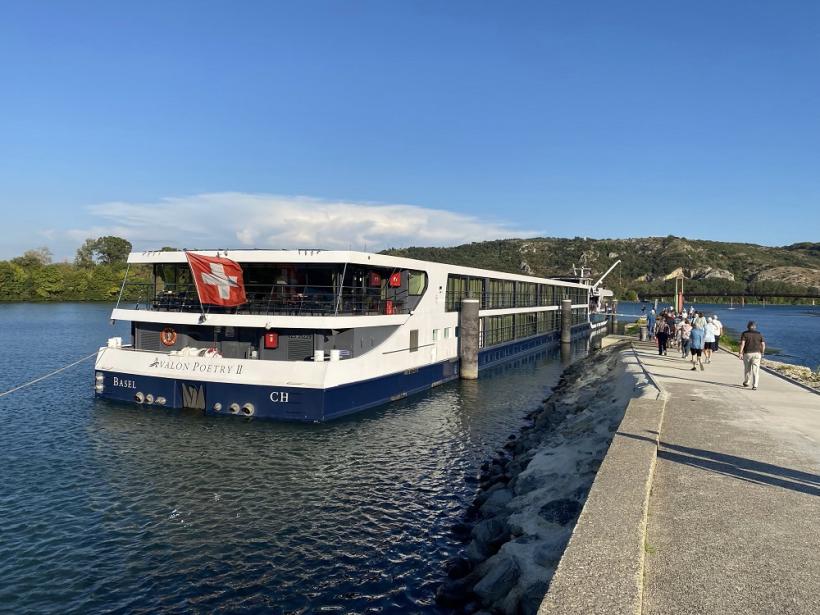 By Jill Wykes, Editor, Snowbird Advisor
As a snowbird, I love to escape the winter at my home in Florida, but just like many of you, I also enjoy other types of travel throughout the year.
Earlier this year, Snowbird Advisor conducted a survey of our members to learn more about their travel interests outside their usual snowbird trips. We were blown away by the thousands of responses we received and greatly appreciate the insight it provided into the various types of travel our members are interested in.
Survey reveals river cruises and ocean cruises top choices
Through our survey, we discovered that many snowbirds also want to travel within Canada, with the next most popular destination being Europe and the UK.
We also learned that ocean cruises to the Caribbean, the Mediterranean, Europe and Alaska were high on the list, as well as bucket list trips. 
But the number one choice among our members for non-snowbird travel was river cruises.
In the spirit of providing tips and insights on this very popular activity among snowbirds, I am sharing the details of a recent river cruise trip I took this past summer that may answer some of the questions you have about river cruising and help you plan your own river cruise trips in the future.
Cruising through Burgundy and Provence
In mid-August, I headed to France with my husband to experience a river cruise along the Saone and the Rhone rivers with Avalon Waterways – on board the Poetry II. This route takes you through the heart of the French wine country with tours to places that sound like an expensive wine list - continuing south all the way to Provence and the south of France.
Pre and post-city stays
Avalon offers lots of choices for short stays before and after your cruise, which is an excellent idea. We booked the stay in Paris - and we added two extra nights to give us more time to get used to the time change. This worked out well because once you are on board the ship, you will be going on tours in the mornings and it's good to get adjusted ahead of time.
We flew direct to Paris from Toronto on Air Canada and were met by an Avalon representative who took us to our hotel. Our stay in Paris was wonderful - it was at the Hotel du Collectionneur, a solid 4-star classic hotel near L'Arc de Triomphe with a unique décor in its restaurant and bar areas -  a combination of Middle Eastern and African, most unusual and very appealing.
A number of optional tours were offered in Paris including a Paris city tour for those who wanted it the day before departing for the ship - we have been to Paris a number of times so we did our own thing, which included a sightseeing cruise on the Seine, departing from the Eiffel Tower and past many of the famous landmarks - and we were able to get a close look at Notre Dame Cathedral, which is being restored after the terrible fire there a few years ago. 
Our journey to the ship entailed a motor coach ride to the train station to take a high-speed train to Dijon, in the heart of Burgundy. From the train we took a coach to beautiful Beaune and had a tour of the Hotel Dieu Charity Hospital, built in 1443 - the building is an architectural gem and now is home to Van der Weyden's painting of The Last Judgement. We then proceeded to our ship in St. Jean de Losne for an overnight cruise along the Saone to Macon.
River ships are not large, most carry anywhere between 100 and 200 passengers, depending on the river and the size of the ships. The river cruise companies sell internationally – on our cruise we met people from the U.S., Great Britain, Australia, and New Zealand, as well as across Canada.
Each day we arrived in iconic wine district locations - Macon, Lyon - where we docked overnight giving two days to tour this gourmet capital of France and a visit to the Beaujolais wineries. Then we went to Tournon - one of France's oldest medieval cities complete with castle and Roman ruins, and Viviers, with its Romanesque cathedral and Old Town. The following day we arrived in Avignon, where the fabulous Palace of the Popes and the impressive Pont du Gard were the highlight tours that day. 
We then sailed to Arles in the lovely Provence region, where Van Gogh spent a lot of time and where we opted to take a painting class to learn the Van Gogh style…this was great fun and very satisfying. There were also great walking tours of Arles available. 
I should mention that Avalon includes different types of tours including the ACTIVE category, where you can go on biking and hiking tours with the ACTIVE tour director.
On to Nice on the French Riviera
The following day was the end of our cruise and our fellow passengers departed for various destinations….we were now near the Mediterranean in the very south of France so some headed off to Marseilles and some to Aix-en-Provence. We headed to Nice with a stop en route in Aix and had three nights booked in Nice in a lovely modern hotel, Le Meridien, right on the Mediterranean in the heart of town.
Our tour director stayed with us in Nice and was available to suggest excursions. There were also some tours including a tour of Old Nice, a biking tour of Nice and a culinary tour. We wandered around the boardwalk and did lots of people watching…France is on vacation in August, so Nice was buzzing with lots of people, most of whom disappeared on August 31!
Our flight back to Canada was on Air Canada from Nice to Montreal, where we had to clear customs before continuing on to Toronto. 
What to expect on a river cruise
This was our third river cruise and it was a wonderful experience. The exceptional and unique panorama suites on Avalon ships have sliding glass doors that open right up so you can sit on your bed and watch the world drift by.  
Three meals a day are included, as well as afternoon tea with cakes and sandwiches. The food is excellent and our cruise included local wines all the way. Wine and beer are included with meals.  Breakfast is a wonderful buffet, along with an omelette and eggs-to-order station. And Avalon has introduced a "bistro" option served in the lounge for lunch and dinner with much smaller portions of a more limited menu. This was great for people who didn't always want a 4 -course meal every night, although we just disciplined ourselves to only have one or two courses in the main dining room.
It's easy to see why river cruising has become the fastest-growing trend in travel. Unlike motor coach tours which have to use highways, river cruises are on the rivers that go right through the heart of the countryside and villages, towns and cities, allowing you to travel at a most leisurely pace, which is an extremely relaxing experience. 
It is also fascinating to experience the amazing rivers and canals of Europe with their massive lock systems. The rivers of Europe have been used for commerce down through the ages and that continues today, as you can see from the many barges shipping goods. 
There are river cruises in many different parts of the world
River cruises are offered in different parts of the world including France, Portugal, Holland, Belgium, Germany, Switzerland, Austria, Hungary, the Balkan states, and Italy - as well as Egypt, Vietnam & Cambodia, Russia, Myanmar, the U.S., Peru and China.
You need to book well in advance
If you're thinking of going on a river cruise, we recommend contacting a travel agent who can help you make all the arrangements and advise you of special offers. You will need to book well ahead as these cruises are often booked a year or more in advance and because of the pandemic, there is pent-up demand.
Explore special river cruise offers for Snowbird Advisor members
If you're considering taking a river cruise, you can contact Snowbird Advisor's travel concierge service, Merit Travel to help you plan and book your trip. This exclusive program often has special discounts and exclusive offers available for Snowbird Advisor members on river cruises and other types of travel.
Learn more about this exclusive travel service for Snowbird Advisor members here.