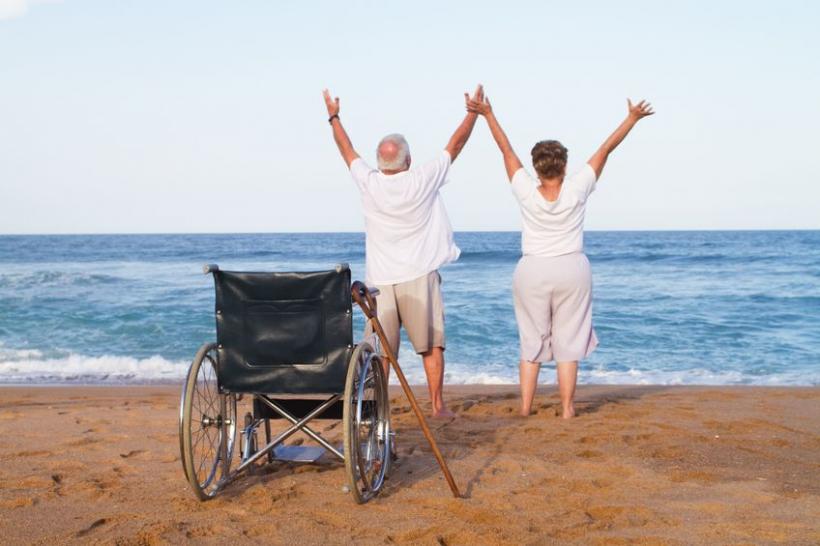 Many snowbirds develop mobility issues as they age, but there's no reason why this should stop you from enjoying the snowbird lifestyle and escaping the cold Canadian winters. 
In fact, if you board any flight to Florida or Arizona from Canada during the winter months, you are likely to see a lineup of wheelchairs and people needing more time to board the aircraft.
"Mobility issues" can vary widely - from not being able to walk quickly or very far to requiring a walker or a wheelchair to get around.
While mobility issues need not stop you from getting away in the winter, they may affect your choice of destination, your mode of transportation and your accommodation. Advance planning and research will make things go a lot more smoothly.
Those with visual or hearing impairment will also need to plan ahead when flying to their destination. And always bring medical notes from your doctor supporting your condition.
The Government of Canada has some good advice for travellers with disabilities here.
Choosing your destination
If you are heading to the Southern U.S. you are probably not going to encounter any major difficulties getting around or finding all the necessary aids such as ramps, disabled washrooms, etc.
However, if you are going to Mexico or Central America, more research into your destination is recommended to make sure that the facilities you need will be in place. 
You will also want to consider choosing locations that have non-stop flights from your home in Canada, wherever possible, as this will be so much easier than having to make connecting flights.
Travelling by air
Flying to your destination is a quick and easy way to get there, but if you have mobility issues, there are things you should do in advance of your trip to make things go much more smoothly for you. 
Flights between Canada and the U.S. are subject to the U.S. Department of Transportation's Rule on Non-Discrimination on the Basis of Disability in Air Travel. Essentially this means that airlines must accommodate customers with disabilities.
Airlines have a lot of information on their websites for people with any sort of mobility issue.
Seating requirements:
If you require special seating on the aircraft, need more leg room or require an adjoining seat for an assistant, you must make these requests ahead of time by contacting the reservation department of your airline - ideally 48 hours in advance or more. 
You should also notify the airline well ahead of time if you have any of the following requirements:
You are travelling with an electric wheelchair or scooter

You require medical oxygen

You are travelling with a service dog or emotional support animal

You have severe hearing or vision impairment

You need special assistance at the airport or during flight
Navigating airports
Most airports have elevators which you can use, however, it is best to check ahead that the airports at both ends of your trip do have elevators before booking your flights.
If you are unable to walk to your gate or onto the aircraft, the airline will assist you but you must notify them that you require this assistance. Please note, they will take you to a washroom entrance, should you need it in the airport, but cannot assist you in the washroom.
Travelling with mobility aids
Most airlines will allow you to bring the following mobility aids with you, but it is always best to check with your airline before booking:
Wheelchairs or scooters

Canes, walkers, crutches

Portable battery-powered devices that you need for your medical condition that may be needed in flight
Your flight
Airlines typically allow you to board your flight ahead of other customers along with anyone who needs more time.
Most aircraft have washrooms that are accessible with door handles, grab bars and call buttons. These can be used along with the onboard wheelchair but always check that you will be flying on an aircraft that does have these facilities, as some smaller commuter aircraft may not.
Driving to your destination
If you are driving to your destination you presumably already have a suitable vehicle for yourself and any aids that you need. 
Research hotel chains along the way that have accessible rooms, most of the major US chains certainly do. Chain restaurants are usually accessible as well.
Your accommodation
If you are renting, you will want to ensure that your accommodation is accessible and that the community you are in has all of the recreational facilities, activities and services that you will want nearby. 
Ask about ledges, any steps, door widths, etc. before you rent. 
Choose accommodations that have large snowbird communities so you can enjoy a social scene without having to travel too far. 
Car rentals
If you are flying to your destination and require a rental car while you are there, most of the major companies have vehicles that are suitable for people with mobility issues. Things such as hand controls and pedal extensions can be arranged but you must call ahead and give at least 48 hours' notice.
Similarly, if you require a lift-equipped van, these can sometimes be arranged as well with advance notice.  
The bottom line
For snowbirds with mobility issues, research and advance notice will make your winter escape so much more comfortable. Always look before you book and ask the right questions.