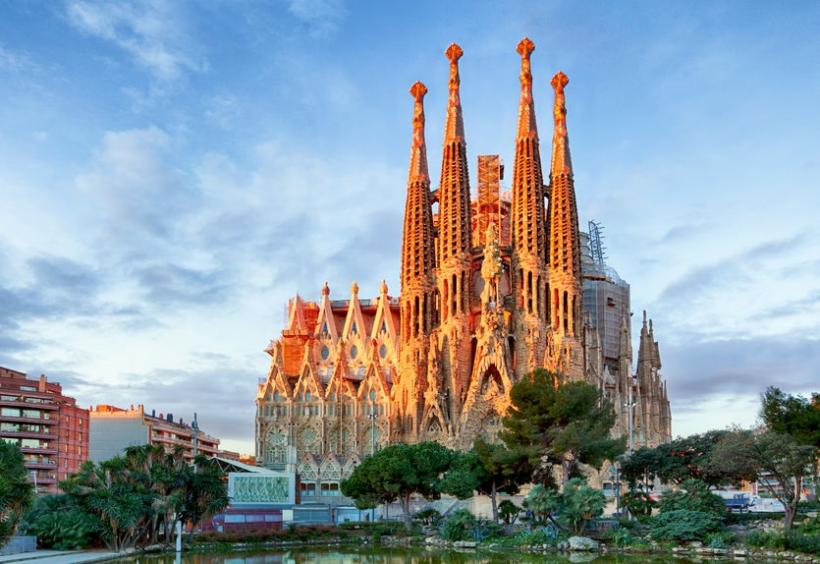 Although some snowbirds travel to exotic destinations to escape the cold and snow in Canada, the majority usually winter in more familiar destinations like the Southern U.S., Mexico and Central America.
But with time to travel, Canadian snowbirds who have disposable income are also working on their bucket list of places to see while they still can, either during their winters away or at other times during the year.
In fact, many Canadians in their 60's, 70's and even early 80's are travelling more than ever before, eager to see the world and visit places they didn't have time to see while they were working or raising their families.
While some are experiencing these trips of a lifetime as couples, others are travelling on their own and some are even taking their children and grandchildren with them.
River cruises – the new motor coach?
The phenomenal growth in river cruises is a testament to the trend of snowbird bucket list travel, as cruise ship operators can not build river ships fast enough to keep up with demand, primarily driven by travellers who are 55 plus.
These sleek new ships offer every comfort, including gourmet cuisine, while traveling the world's rivers and sites along the way at a leisurely pace. River cruises are seen by many as the new motor coach tours – although far more luxurious.
Not that motor coach tours have gone away – not at all. They are another excellent way to explore your bucket list destinations if you don't want to do it yourself by car or rail. Many motor coach tour companies are now catering specifically to mature travellers, offering tours that vary from budget to luxury in many parts of the world.
Use a travel agent or do it yourself?
Many of today's boomers are experienced travellers, preferring to do their own research, book their own hotels, rent a car or just walk and take local transportation wherever they go.
The exception is when they are travelling to lesser known parts of the world. For trips like these, it is often best to put yourself in the hands of an experienced travel agent or tour operator to arrange your travel and/or escort you during your trip.
You can miss a lot if you try to book your trip on your own, and there are all kinds of issues you can run into that a good travel agent or tour company can help you avoid or resolve.
Our top 11 snowbird bucket list trips
On that note, here are our top 11 places and vacation types that are on many snowbirds' bucket lists:
1. Beijing & the Great Wall of China
Nothing can prepare you for the spectacle of the Great Wall of China, a massive structure, centuries old, that extends for as far as the eye can see in both directions.
Beijing itself is a city of enormous scale and things to explore. The seemingly endless Forbidden Palace, the enormous squares and the bustle in the streets is like nothing you've ever seen in North America.
You may also want to cruise on the Yangtze River and visit fabulous Shanghai.
2. Australia and the Great Barrier Reef
For most people, a trip to Australia is a once-in-a-lifetime thing. It's a very long flight, so if you're going all that way, you will ideally want to stay for a month or more and allow time to see some of the different parts of this vast and diverse country.
The Great Barrier Reef is spectacular and not far from a region that actually attracts a lot of long-term winter visitors from Canada and other countries.
Sydney and its iconic Opera House should not be missed, and Ayers Rock is another famous landmark you'll want to tick off. And that's just the tip of the iceberg, so get lots of advice to make the most of a trip to Australia.
3. Vietnam
While many boomers may associate this Southeast Asian country with the Vietnam War, fifty years later Vietnam has become a very popular tourist destination.
Whether you tour by bus, minivan or river cruise, Vietnam's fascinating history and culture, as well as its excellent cuisine, bustling cities, beautiful beaches and breathtaking countryside, make it a popular bucket list destination.
4. India and the Taj Mahal
India is another vast and diverse country. It's also a place that most people Canadians will only visit once in their lifetime, so allow yourself enough time to see various parts of this fascinating and exotic country.
The Taj Mahal, India's most famous landmark, is a must-see that can only be fully appreciated when you see it in person.
It is highly advised that you seek guidance and expertise from an experienced travel agent when planning a trip to India and travel with a reputable tour operator, as travelling on your own can be challenging.
5. The Galapagos Islands
The Galapagos Islands off the coast of Ecuador - where Darwin developed his Theory of Evolution - are at the top of many people's bucket lists.
The islands are a natural preserve and you can only enter the region with an escorted cruise boat. There are small yachts and luxury tour boats that will take you on a 7 day tour of the islands, which have many indigenous species that Darwin studied so long ago.
Combine your visit to the Galapagos with a trip to the colonial city of Quito, or carry on in South America to visit Chile and Argentina, both boasting wonderful wine regions, great cities and more.
6. Italy - Rome, Florence, Tuscany & Pompeii
If you have never been to Italy, then it will likely be on your bucket list. The antiquities of Rome, the fine museums of Florence, the beautiful canal city of Venice, glorious Tuscany and the vineyards and the ancient ruins of Pompeii are just a few reasons you must visit Italy.
There are many more – Taormina in Sicily, the Amalfi Coast and island of Capri, picturesque Portofino and the hiking hills of the Cinque Terre.
And then there's the cuisine, offering an endless variety of delicacies that are considered to be among the best in the world.
7. African Safari
African safaris are one of the top bucket list items among Canadian boomers, and it is easy to understand why. Seeing exotic animals in their natural habitat is a thrill like no other.
Whether you choose Kenya, Botswana, Tanzania Zimbabwe or Namibia, you will come back with memories – and photographs - that you will treasure forever.
There are many choices of accommodation, mode of transport and species to see. Be aware that when it comes to safaris, even the budget versions are not cheap. Again, working with an experienced travel agent and tour operator is a must to avoid having your dream safari turn into a nightmare, so choose carefully, as this is a once in a lifetime trip.
8. Machu Picchu
The lost city of the Incas – Machu Picchu in Peru - is a magical experience that many seek out. Located at a very high altitude, it is not for everyone. But the trip up there is well worth it once you arrive and if you are fit and able, hiking the Inca Trail awaits. There are many tour companies who specialize in taking you to Machu Picchu.
And if you are heading to Peru, you'll probably want to try to take in Lima and Cusco as well, and perhaps visit the birthplace of the Incas - Lake Titicaca.
9. Barcelona, Spain
Always a lovely city, Barcelona is located on the Mediterranean coast of Spain across from the Balearic Islands of Mallorca and Ibiza and really came into its own when it hosted the 1992 Olympic Games.
Since that time, the city has enjoyed a massive influx of visitors who come to see the fascinating works of Gaudi, including the incredible Sagrada Familia, as well as enjoy the wonderful pedestrian street Las Ramblas and the excellent cuisine of the region.
The waterfront was transformed for the Olympics and is a wonderful place for strolling or spending an evening visiting the bars and restaurants. The port is a major port of call for Mediterranean cruise ships and many cruises begin here.
10. Provence, France
France has so much to offer visitors, starting with Paris, the City of Light. But for boomers, the region that probably beckons the strongest is Provence. Just the very name conjures up idyllic scenery, fresh produce, local wines and a hillside villa or small hotel.
The ideal thing to do here is rent a house or villa with friends or family, rent a car and explore the region for as long as you like.
11. A River Cruise
As mentioned earlier, the popularity of river cruises cannot be overstated. In the past 20 years, they have taken over as the vacation of choice for many Canadians and American over the age of 50.
The most popular itineraries for river cruises are in Europe, along the Rhine River and the Danube visiting Holland, Germany, the Czech Republic, Hungary and Serbia. The Rhone and the Seine have been added providing wonderful tours to Normandy and the South of France.
There are also rivers cruises in Portugal & Spain on the Douro, in Russia on the Volga and in Asia on the Yangtze in China, the Mekong in Vietnam and Cambodia, and most recently, in Myanmar.
You can also sail on the Ganges in India and the Nile in Egypt.
River cruises can become a bucket list of their own, with some people taking one every year in a different region.