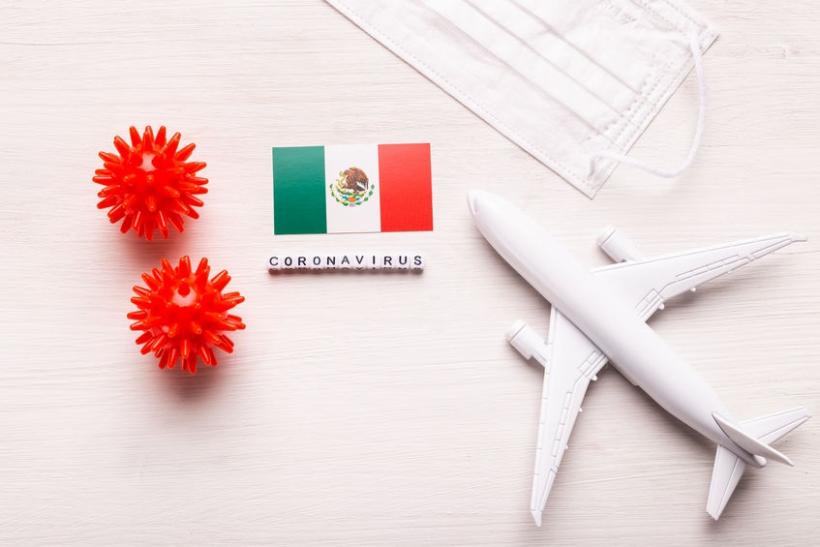 LAST UPDATED: November 3, 2021
Each year thousands of Canadian snowbirds spend the winter in Mexico, enjoying the guaranteed warm weather and great value that Mexico offers.
And while the COVID-19 pandemic saw far fewer travellers heading to Mexico last winter, it appears that many are likely to return this winter, despite some of the challenges COVID is still posing in Mexico.
To help you navigate potential issues, we have created the following guide to all the things you need to consider if you're thinking of spending the winter in Mexico this year.
The COVID-19 situation in Mexico
As of early October 2021, the vaccination rate in Mexico is at about 44% of the population.
And as of early November 2021, the COVID-19 infection rate in Mexico is on a downward trend at the moment after a peak in late summer and September.
Mexico has a 4 colour code system in place for COVID restrictions. Yellow indicates partial re-opening and Green indicates a 70% level of re-opening with regard to any restrictions.  Currently, virtually all regions in Mexico are currently either Yellow or Green, with the exception of Baja California which is Red.
This map of Mexico shows the regions by colour code.
The number of cases in any given region can change quickly and without warning. Accordingly, it's important that you do the following to stay up to date:
Regularly consult official, reliable sources for the latest COVID statistics in Mexico generally in and your destination specifically


 

Check the Canadian government website for up to date

information and travel advisories related to Mexico


 

If you have friends in your destination in Mexico, consult with them to see what the situation is like on the ground.
Quarantine & testing requirements in Mexico
Currently, there are no quarantine requirements for travellers arriving in Mexico, nor are there any requirements for negative COVID tests before or upon arrival.
However, travellers must fill out a health questionnaire form. They can fill out an electronic form or a paper form. The paper form can be found in the international arrivals area at the airport. For the electronic form, travellers need to create an account on the Vuela Seguro Mexico website a maximum of 12 hours before their flight, keep the QR code from the online form, and present it to immigration on arrival in Mexico. There is no fee to complete this form.
It's also important to note that some destinations, condos, communities, resorts and hotels may have requirements or restrictions related to COVID, so be sure to check for any local requirements in your destination prior to your departure.
Social distancing & face mask requirements
Social distancing and face mask requirements vary by state and region in Mexico, so check the local regulations for your destination before you leave to make sure they are taking adequate precautions that you are comfortable with.
If you have been to your destination before, you will also be in a better position to assess your ability to social distance at your accommodations i.e. are there crowded entrances, hallways, elevators, etc. that you will need to navigate?
Getting There and Back
Flights
As of October 30, 2021, in order to fly from a Canadian airport, all travellers age 12 years and older must be fully vaccinated. However, there is a brief "transition period" until November 30, 2021, during which time travellers are able to present a valid negative COVID-19 molecular test taken within 72 hours of travel as an alternative to proof of vaccination.
Flight schedules to Mexico destinations remain reduced from 2019 levels, so it is important to check with your airline regularly to see what flights are operating. Some flights could be cancelled or consolidated if there is not enough uptake, so keep checking with your airline.  
Depending on where you are heading in Mexico, it is possible that you may have to take a connecting flight from Canada through the U.S., in which case you must ensure that you comply with any U.S. requirements for flying to and from the United States.
This year in particular, you may want to consider working with a travel agent to book your flights, as they will have access to flight booking systems that you might not and will be able to advise you on the best route to get to your destination, as well as advise on the latest updates on travelling to that region.
Driving
The Canada - U.S. land border and the Mexico – U.S. land border will be open as of Nov. 8, 2021enabling Canadians to now drive their vehicles and RVs to Mexico through the U.S.
Returning to Canada
Keep in mind that when you are returning to Canada you will need to comply with all pre-arrival testing requirements for Canada (and the U.S. if you are driving or flying through the U.S. to get back to Canada), and finding testing facilities in Mexico that can provide Canadian and U.S. approved COVID tests that can be turned around in a timely manner may be challenging in some areas, so make sure you do your research in advance to find an appropriate testing option.
Travel Advisories and Canadian Consular Services
At this time, the Canadian Government's travel advisory level for Mexico is Level 2 (Exercise a high degree of caution) for most parts of the country that snowbirds would visit, however a Level 3 advisory (Avoid non-essential travel) is in place for some regions not due to COVID, but due to high levels of violence and organized crime.
Travel advisory levels can change frequently and without warning for a variety of reasons, including COVID, so we suggest you check the travel advisory status regularly.
Information on travel advisories for Mexico can be found on the Canadian government website.
The U.S. Center for Disease Control website also has advice for travellers to Mexico.
Consular services and assistance may be limited during COVID-19, so you may not be able to get the assistance you normally would if you run into an issue in Mexico
Medical facilities and treatment in Mexico
It is important to remember that in many Mexican resort areas and smaller towns, medical facilities and treatment options will not be equivalent to those available in Canada, and may not be adequate to deal with all COVID symptoms.
In addition, these medical facilities may not have the capacity or resources to treat you for COVID-19 or other medical issues if the situation worsens and they are overrun with domestic COVID cases.
Travel Insurance
Make sure your travel medical insurance is valid for Mexico and you understand what type of coverage is included for COVID, including any coverage limits, restrictions or exclusions related to COVID.
We recommend that you actually phone your insurance provider to ensure that you are clear about your COVID coverage, as the terms can vary greatly among providers.
It's also important to be aware that you may not be able to get an air ambulance back to Canada for treatment if you are too sick to fly or if the COVID situation worsens in Canada and no hospital beds are available back home.
Local Services
If you plan to socially isolate in your destination, be sure to research whether you can get groceries, meals and other essential items delivered.
You'll also want to consider the availability and proximity of restaurants for patio dining and take-out.
The bottom line
Mexico is a popular choice for many Canadian snowbirds, and for good reason. However, COVID-19 has given rise to some unique issues that require consideration when deciding whether or not to spend the winter there this year.
Ultimately, each individual must assess their own risk tolerance and personal circumstances when making this decision during the pandemic.