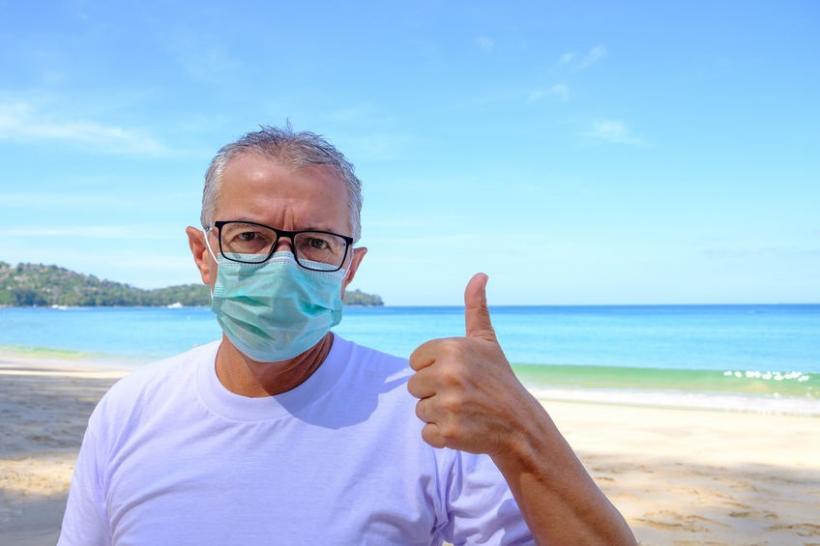 In our new COVID-19 world, wearing face masks has become commonplace and is now a recommended practice by the Government of Canada to help reduce the spread of the virus.
While face masks don't prevent the spread of the virus entirely, they are believed to be an effective way of reducing spread - but only if enough people are wearing one.
Needless to say, new face mask practices will have a direct impact on snowbirds both at home and when they begin to travel again to their winter destinations.
When Should You Wear a Face Mask?
As of mid-May, 2020, the government is recommending Canadians wear face masks in situations wherever it is not possible at all times to maintain a 2 meter distance in potentially crowded public places such as supermarkets, retail stores, public transportation, congested city streets and other public areas.
This newly recommended protective measure is likely to remain in place for some time to come, and as our society begins to open up again, face masks may even become mandatory to participate in certain activities. For example, some retailers, service providers and other businesses are already requiring their staff and customers to wear face masks. Public events and gatherings may also require you to wear a facemask.
And of course, once non-essential travel is allowed again, mandatory face masks may become the new norm for air travel, trains, motor coaches, cruises, tours and attractions.
Questions and Misinformation about Face Masks
The sudden need and demand for face masks has given rise to many questions, including:
What are my face mask options?

What are the differences between each type of face mask?

How effective is each type of face mask?
Unfortunately, it has also given rise to much conflicting and inaccurate information being disseminated about face masks.
Accordingly, we've created the following COVID-19 face mask guide with guidelines and information gathered from leading government and public health resources, as well as Snowbird Advisor medical contributor, Dr. Ron Mayer, who previously served as CEO of an established Canadian travel insurance provider for over a decade and is currently Chief Medical Officer at FullMast Men's Health Clinics.
COVID-19 Face Mask Options
There are many different types of face mask options available, including medical grade and non-medical grade masks as well as reusable and disposable options, all of which we will cover below.
However, please keep in mind that the Canadian government is currently asking Canadians NOT to wear medical-grade masks at the moment and to stick exclusively to reusable cloth face masks or non-medical grade disposable face masks so that all medical grade disposable face masks can be reserved for front line workers.
Reusable cloth face masks        
Availability of reusable cloth face mask was somewhat limited for a period right after the COVID-19 outbreak started, and although some brands and retailers may occasionally still be sold out, production has since ramped up and these masks are much more readily available,
Many companies both large and small are now manufacturing reusable cloth face masks in Canada and abroad - just take a look at any social media feed, where you'll be bombarded with face mask ads.
Reusable face masks come in a variety of styles and price points. They also have different features and are of varying quality, which can make choosing a reusable face mask a confusing task.
Here are some important things to consider and look for when choosing a reusable face mask:
Material: Face masks should be made of a dense, but breathable fabric such as cotton or silk. The higher the thread count and tighter the weave of the fabric, the more protection it provides.



New studies are being conducted regularly to determine the effectiveness of different face mask materials, so keep an eye out for the latest findings.

Durability: Reusable face masks should be washed after each use using a washing machine, which means durability is a factor when choosing a mask. Some manufacturers provide a recommendation on how many times a face mask can be washed before it should be disposed of.
Layers & Filters: According to the Government of Canada, reusable cloth face masks should have a minimum of two layers. Some face masks have three or four layers and certain face masks have a pocket between layers that allows you to insert a disposable filter, like a paper towel or coffee filter.
Fit: Face masks should cover your nose and mouth, fit your face snugly and have a tight seal around the edges of the mask to avoid gaps.

Some masks come with a wire or metal insert over the nose that allows you to grip the bridge of the nose to create a tighter seal.



Face masks can be secured to your face in a variety of ways, depending on the style:


 

Elastic straps attached to the mask that fit behind your ears. Some of these masks include adjustable fasteners on the elastics - a nice feature that allows you to adjust the mask to your head size.
Ear holes cut in the fabric itself that stretch to fit over your ears
Ties that go behind the head or ears which must be tied each time you put on your mask, which allows you to fit the mask to fit your head but isn't very convenient.
If you don't have access to a reusable face mask, another option is a stretchy garment that fits around the neck and can be pulled up over the face. Some people are also wearing bandanas, usually doubled, and then tied in the back of the head.
Whatever type of reusable face mask or cloth covering you are using, you will need more than one as they must be laundered after each use. Ideally, it is good practice to have 6 or 7 face masks for convenience that you can rotate so you don't have to do laundry every time before you leave the house.
How to clean and care for your reusable masks
Reusable cloth face masks should be washed after each use, preferably by laundering in your washing machine on a regular cycle. Alternatively, you can wash your face mask by hand in a mild bleach solution made by combining 4 teaspoons of bleach to one litre of room temperature water and then rinsing extremely well, or washing with dish soap. 
Face masks can be dried in a dryer or laid flat to air dry.
Experts are also advising that you should not pull your mask down below your chin part of the time as this could contaminate the inside of the mask with the virus. 
You can find more recommendations and information about non-medical reusable face masks here:
Disposable, single-use non-medical masks
It is also possible to buy disposable, single-use masks for public use, which are generally made from plastic and paper products, often similar in appearance to surgical masks and should only be worn once and discarded in the garbage immediately after use.
How to put on and remove your mask
Putting on and taking off your mask safely is of paramount importance. To put your mask on, wash your hands thoroughly for 20 seconds – or if that's not possible, clean your hands thoroughly with hand sanitizer. Then put on your mask.  
To remove your mask, again clean hands thoroughly before touching the mask and removing if from your face. Then clean your hands again after you have placed the mask in the laundry or disposed of it.
It is important not to touch your face with hands that haven't been sanitized by washing with soap or using hand sanitizer. 
Medical-grade face masks and respirators
While the government is currently asking Canadians not to use medical-grade face masks and respirators so they can be reserved for front line workers, it is still a good idea to be familiar with the following options in case things change in the future.
Medical-grade N95 respirators
N95 respirators are Class I medical devices that achieve a minimum filtration efficiency of 95% when worn properly. The edges of the mask form a tight seal around the nose and mouth and are designed to reduce the risk of inhaling hazardous airborne particles and aerosols.
N95 respirators must pass minimum performance requirements, such as filter efficiency and breathing resistance. Different countries have different standards for these types of respirators, for example, N95 is the U.S. standard, while KN95 is the Chinese standard.
N95 respirators are produced in many different styles, such as "cup", "flatfold" or "duckbill" styles, and may or may not have an exhalation valve.
Non-medical-grade N95 & KN95 respirators
Non-medical or commercial-grade N95 and KN95 respirators are similar in design, filtration, fit, performance, and material standards to medical-grade N95 and KN95 respirators, but do NOT qualify as medical devices. However, they may be used in a health care setting during the COVID-19 outbreak when medical N95 (or equivalent) respirators are not available.
Surgical masks
Surgical masks are used in operating rooms during surgery. They protect the patient and medical staff against micro-organisms, body fluids and particulate material.
Unlike N95 respirators, surgical masks fit more loosely and do not offer the same level of protection.
There are 3 levels of surgical mask, which are listed below. The higher the level, the more protection it provides:
Level 1 (low) - venous pressure splash

Level 2 (moderate) - arterial pressure splash

Level 3 (high) - high-velocity procedures
You can learn more about the differences between N95 respirators and surgical masks here.
The bottom line
The use of masks is a much-debated topic, as is which type of mask to wear and how effective they are. 
However, it appears that a general consensus is forming that wearing a face mask affords some level of protection. 
With so much information out there and so many companies now making masks, it is important to ensure your masks are good quality from a trusted provider – so be sure to check out online reviews for various face mask brands and suppliers.