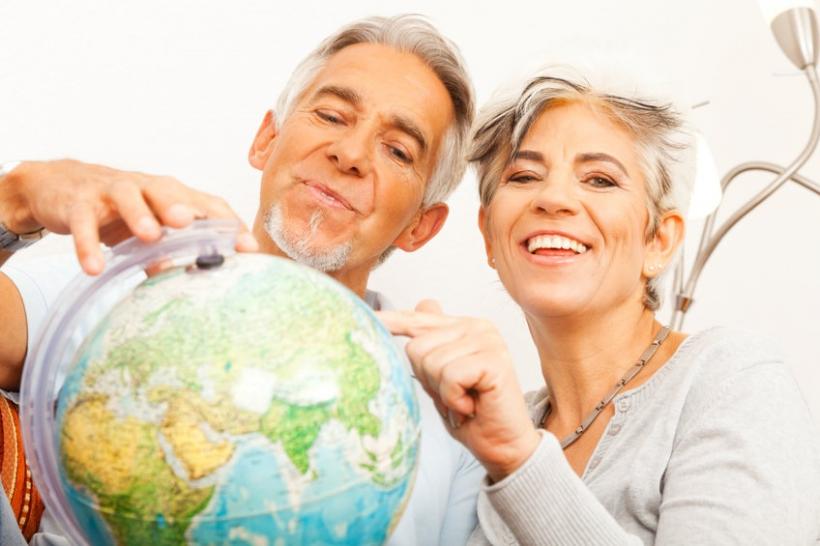 Many snowbirds don't just travel to their winter destinations - they're also busy taking bucket list trips, cruises and other vacations in the spring/summer/early fall. 
If you're thinking about a special trip in late 2021 or 2022 to celebrate being able to travel again, you're not alone! In fact, you had better start booking soon. 
Americans have been booking travel now for months, which has resulted in some cruise and tour departures being sold out or close to sold out already - as well as some dates for hotels.
Canadian travel agents have also seen a huge influx in bookings in recent weeks and some interesting trends are developing. There is huge pent-up demand as people have not been able to plan travel for a long time. Travel agents are reporting that their clients are happy to spend more money than usual and are looking to upgrade their vacations by taking luxury trips or staying longer.
People want to travel to celebrate what will hopefully be the winding down of COVID. 
All indications are that travel is going to come roaring back next year and if people wait too long, they will find many options are sold out.
Why you should consider using a travel agent
Travel will not be the same as before the pandemic, at least not for a while.  Many countries are just opening up and some are not yet open as they are still dealing with outbreaks of COVID.  Other countries have various rules and requirements for inbound travellers that are constantly changing and can be confusing.
Many airlines are not operating as many flights as before and getting to and from destinations could be more complicated.
For all of these reasons, snowbirds should consider using a travel agent to make their arrangements. Travel agents have systems that give them access to all the information you will need to plan your trip and will keep you informed of any changes.  In addition, if any problems arise during your trip, your agent is there to help you. 
Navigating all of these issues in the post-COVID world can be tricky. Try to think of your travel agent as your own personal travel concierge!
COVID protocols and vaccination status
Those who travel this winter and next year are likely to still see some COVID protocols in place, depending on where they go - including mask requirements, limits on crowds, social distancing requirements, quarantine, limits on indoor dining, etc.
Some travellers are concerned that there won't be enough COVID protocols while others on the other side of the spectrum won't want to travel if there are still a lot of restrictions in place.
Vaccination status will also be very important for travel to many destinations. Some countries will require proof of vaccination – as will some travel suppliers such as cruise lines, hotels, coach tour companies and river cruises. And these requirements will keep changing and evolving.
Vaccination status already affects quarantine requirements for Canadians when you return home and the Government of Canada has stated that it is working on a federal vaccine "passport" which should be ready this Fall to allow vaccinated individuals to travel more freely.
Finally, many travel companies are still allowing flexible cancellation policies at the moment due to COVID, but this will also change eventually.
What's selling? 
Several cruise lines announced their round-the-world cruise dates for 2022 and were sold out in minutes!
If you're looking for a "deal" you may already be too late. All of this pent-up demand as well as rebooking travellers who were disrupted in 2020 has meant that in some cases, demand is outweighing supply – which of course results in prices going up.
But many people are not concerned with price - they have not been able to spend their travel budgets for some time now and just want to travel!
Ocean cruises, river cruises, small escorted groups and villa rentals are all selling rapidly for next year and even beyond next year.
In Europe, Italy, Greece and Spain are all in high demand as are private villa rentals. 
Ocean cruises
Ocean cruises were hit hard by Covid and Canada still has a Level 4 Travel Advisory advising Canadians not to cruise. However, this is expected to be relaxed soon as vaccination rates rise and cruising resumes around the world under strict protocols.
Demand for ocean cruises is very strong now – and not just from people who are holding unused credits with cruise lines. Travel agents are seeing many new bookings as well and some dates are already close to being sold out in 2022.
Travel agents report that people are happy to pay for cabin upgrades or to switch to luxury cruise lines.
Ocean cruising is slowly resuming already this year in the Mediterranean and closer to home in the Caribbean, Alaska and the Pacific.
River cruises
River cruises are particularly popular with the snowbird demographic and all indications are that river cruises will be extremely popular in 2022 and even later in 2021 in Europe.
They are a great way to see any destination as you are sailing through the middle of many great cities and towns at a very relaxed pace.
Some river cruise companies are reporting that 2022 is already about 85% sold out. 
Escorted tours
Small escorted tour groups are in high demand post-COVID - people are perhaps more comfortable with a small tour group rather than a larger one - and many families or groups of friends are booking their own tour group.
Large or small, escorted tours offer the advantage of travelling with an escort who knows what's open, what's closed and will plan your trip around all those logistics.
And the farther away you are from home, escorted tours help overcome many barriers to doing it yourself such as language, entrance to museums and galleries, visits to historical sites and special experiences that you could not organize on your own.
U.S.A.
For those who don't want to venture overseas just yet, the U.S. is the obvious choice for a vacation – although snowbirds who spend the winter in the U.S. need to be mindful of how many days in total they are spending there.
Top choices for U.S. vacations are California for wine tours as well as city escapes to New York, Chicago, Washington, San Francisco, Seattle and Los Angeles.
Bubble vacations
Travelling with your own extended family or with close friends is a thing right now, and a private villa, cottage, condo, farmhouse or even your own riverboat are the perfect way to travel together if you're still concerned about COVID - or you just want to hang out together for a while.
There are several companies that facilitate private rentals and a number of companies that rent out riverboats.
The last word
It is important to remember that when it comes to travel, many things will be different than they were before COVID.  Airlines may have stopped operating certain routes, cruise lines have sold off some of their ships and some companies may have gone out of business.
If you're looking to travel next year, now is a good time to contact your travel agent to find out what your options are available and get started on booking something. The added bonus is that once you're booked, you can sit back, relax and look forward to your trip.