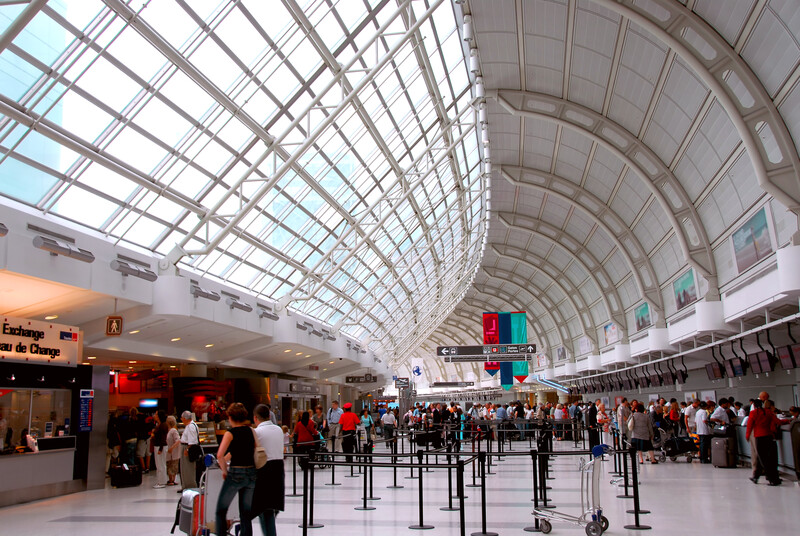 LAST UPDATED: January 11, 2023
Air travel has been fraught with issues since most COVID restrictions were eased and the demand for travel skyrocketed. Staffing shortages, poor weather and other factors have led to long wait times for check-ins, security and customs, as well as flight delays, cancellations and lost luggage.
If all of this has you worried about your upcoming flight, here are some great new tools that can help make flying go as smoothly as possible - whether you're heading to your winter home or coming back to Canada.
And while it's often not viable for snowbirds, travelling with carry on luggage is always easier and faster than checking your bags.
Reserve your security screening time
You can now book a time for your security screening in advance at Toronto Pearson YYZ, Vancouver YVR, Calgary YYC, Edmonton YEG and Montreal YUL airports using the "Express" feature, which can significantly cut down your wait time in security screening lines.  
To book your security screening, simply go to the website of any one of the following airports, find the Express feature and register:
Flying to the U.S.? Submit your customs information ahead of time
U.S. Customs and Border Protection (CBP) has introduced Mobile Passport Control (MPC), an app that allows you to digitally submit your customs and immigration information in advance if you're travelling to the U.S.
Using the app to submit your customs information in advance can help significantly reduce your wait time when clearing U.S customs and immigration.
MPC is currently available at 38 sites, including 3 Canadian pre-clearance locations at Toronto, Montreal and Vancouver airports, 31 U.S. airports and 4 U.S. seaports of entry.
The CBP MPC app can be downloaded for free from the Google Play Store or Apple App Store. After downloading the app, you will be prompted to create a profile with your passport information, name, gender, date of birth and country of citizenship. You can also create profiles for members of your household who are travelling with you.
Once you create your traveller profiles, you'll need to do the following upon arrival at eligible preclearance locations in Canada or upon landing in the United States at an airport that uses the MPC program:
Select the airport and terminal from a list

Take a self-photo and answer a series of CBP inspection-related questions

Once you submit your transaction through the app, you will receive an electronic receipt with an encrypted QR code

You can then bring your physical passport and mobile device with your digital QR-coded receipt to a CBP officer to help speed inspection prior to departure
A single household can just submit one transaction for all household members. Travellers who use the app do not need to fill out a declaration form. 
For more details and answers to common questions about MPC, please visit the following resources:
Airport wait-time dashboard
Toronto Pearson airport has added a Wait Time Dashboard to its website which shows current wait times at Security, U.S. Customs pre-clearance, and at each airline's check in counters.
It is a good idea to keep checking this prior to going to the airport.
You can find the Wait Time Dashboard here.
Use ArriveCAN when returning to Canada
Many Canadians have negative feelings about the ArriveCAN program from back when it was mandatory and travellers were required to submit their pre-arrival COVID testing and proof of vaccination prior to arriving in Canada.
However, things have changed quite a bit and ArriveCAN has evolved from the burden it once was into a useful time saving tool for travellers arriving in Canada.
ArriveCAN is no longer mandatory and you are no longer required to submit your proof of vaccination and negative COVID test results, but using ArriveCAN to submit your customs declaration before going through Canadian customs can significantly reduce your wait time upon returning to Canada.
Travellers can submit their Canadian customs declarations either through the ArriveCAN mobile app or website.
You can learn more about how the ArriveCAN program works here – including how to submit your customs declaration through ArriveCAN, where to access the website and how to download the mobile app.