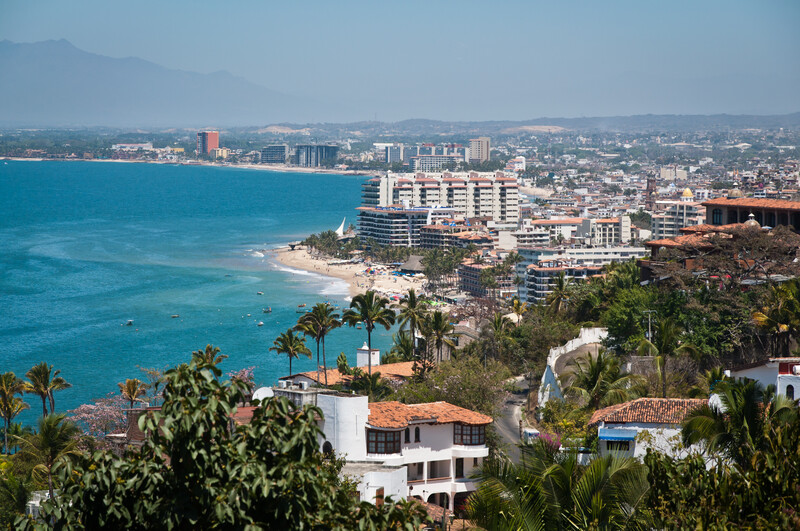 LAST UPDATED: January 11, 2023
Mexico has long been the second most popular destination for Canadian snowbirds, after the U.S. sunbelt. But in recent years Mexico has been growing even faster as a desirable alternative to the U.S. for many Canadians. 
There are some very good reasons for this, including:
The cost of living can be significantly more affordable than the U.S. for most things. 

The weather is reliably warm and consistent.

Mexico offers the opportunity to experience a different culture, learn Spanish and meet people from around the world who winter in Mexico.
Many of today's snowbirds are more adventurous than their parents and open to exploring different destinations outside the U.S., including Mexico, parts of Central America and beyond.
However, if you're thinking about choosing Mexico as your winter homes, there are many things you need to consider and be aware of before making the leap.
Accordingly, we've created the following guide for Canadian snowbirds spending the winter in Mexico.
Where to Stay
While Canadians travel to a number of areas in Mexico, the main snowbird migrations land in the Puerto Vallarta area on the Pacific coast, San Miguel de Allende in Central Mexico or along the Mayan Riviera corridor from Cancun and Tulum.  
Other popular areas are Lake Chapala, the Baja peninsula, Los Cabos and Merida.
You can find more information about popular Mexican snowbird destinations here.
How Long Can Canadian Snowbirds Stay in Mexico?
Visitors can stay in Mexico for up to 180 days. However, the length of time you will be allowed to stay is at the discretion of the immigration officer who provides you with your visitor's permit when arriving in Mexico, although in most cases, you will be granted entry for the length of your visit - as long as it is 180 days or less. 
Your passport must be valid for your entire stay in Mexico.
The following official government websites provide further information about entry requirements and how long Canadian can stay in Mexico. We suggest you check these resources before travelling to Mexico as requirements can change quickly and without notice:
Consular Services
Canadian consular assistance is available in several Mexican cities including: Mexico City, Acapulco, Cabo San Lucas, Cancun, Guadalajara, Mazatlan, Playa Del Carmen, Puerto Vallarta and Tijuana.
You can find contact and other information for Canadian consular service locations in Mexico here.
Getting There and Getting Around
Getting There
The majority of snowbirds fly to Mexico for their winter stay, but it is possible to drive - and of course if you have an RV and are heading to Mexico, that is how you will get there.
In addition to regular, year-round flights to select parts of Mexico from major Canadian airports, there are many additional seasonal flights to various Mexican destinations during the winter months from Canada, including flights from several regional Canadian airports. But a word of caution on these seasonal flights - they invariably end sometime in April - so depending on when you plan to return to Canada, make sure you are traveling on a service that is year-round. It is advisable to consult a travel agent to explore all of the schedules and options.
There is also an extensive domestic network of flights within Mexico, so it is easy to get from one area to another - although you sometimes need to connect through Mexico City.   
Getting Around
Mexico has a comprehensive bus network to get around the country.
Within popular snowbird destinations, taxis, Uber and various ride-sharing programs are generally available. There are also local bus transit systems that are inexpensive, and many are now air conditioned.
Of course, there are car rentals available throughout Mexico but many snowbirds prefer to get to know a local driver and have them drive them or take them on sightseeing trips. This is generally recommended unless you are fluent in Spanish and familiar with the region, as safety can be a concern in Mexico (see Safety section below)
Vacation Rentals
There are many vacation rentals available in the popular areas such as the Mayan Coast, the Puerto Vallarta area, San Miguel de Allende, the Baja region - as well as in several other parts of Mexico.  
There has been a recent condo boom in the Puerto Vallarta area in particular, which has increased the supply of vacation rentals. However, there has also been a surge in demand, so availability can be an issue and you'll want to book as early as possible.
Many snowbirds initially access vacation rentals in Mexico through vacation rental websites such as Airbnb, VRBO, etc…, but once you have spent some time in Mexico, you can also make direct arrangements with the property owners or get help finding a rental through a reputable local vacation rental property management company or real estate agent.
The preferred rental period by owners is 6 months, so you will be competing with snowbirds who stay for 6 months if you are looking for a shorter-term rental and may be at a disadvantage. The longer you are looking to rent for, the more options you will have.
It is common for property owners to ask for an upfront deposit equal to 1 month's rent (and sometimes more) to secure your rental, so you'll want to know what the deposit refund policies are and get a written agreement. You should also do your homework as much as possible to determine if you're dealing with a reputable owner/property manager.
When it comes to vacation rental prices in Mexico, many popular snowbird destinations have affordable options. However, if you're looking for a really nice rental in a prime location, you might be surprised at how much they cost in some places (think $2,000 - $6,000 USD per month) but you'll almost always get more bang for your buck in Mexico than you would in the U.S. – for example, the equivalent properties in popular U.S. destinations may go for twice as much or more.
As far as timing goes, it's best to secure your vacation rental as early as possible, as more and more snowbirds are choosing Mexico as their winter destination – and if you've spent the winter in Mexico and want to return to the same place the following year, you should consider securing a rental for the following season while you're still there and before you come back to Canada.
Buying Real Estate
Many Canadians fall in love with Mexico and buy property there – however there are some restrictions on foreign ownership.
It is essential to work with an experienced professional real estate agent and a lawyer specializing in real estate when purchasing property in Mexico.
If you want to purchase a property in what is known as the "restricted zone" - 50 kilometers from the coast line and 100 kilometers from the border - you must establish a beneficiary ownership through a trust with a Mexican bank, according to Nancy Chapman of PV Realty in Puerto Vallarta.
These trusts are established for 50 years, but can be renewed at any time during their existence, forever. The cost of establishing a trust is usually $1,000 -$1,500 USD.
"The trust is not held as an asset of the bank, it's an accommodation to assist with foreign investment in Mexico. There is an annual charge of approximately $600 USD to manage the trust. The banks don't have any rights to the property and the beneficiary owners have the same rights of ownership as any property owner", according to Chapman.
She added: "One good feature of the trust is that inheritance rights are very specific within the body of the trust. Property owners can name their beneficiaries and what portion of ownership they are assigning them. Nothing supersedes this clause, not even a will from Mexico or another country. For this reason, many Mexican nationals also choose to hold their property in a trust."
If the property you wish to purchase is located outside the restricted zone, then it is a regular property ownership and a trust is not required.
There will be a number of closing costs when you purchase a property in Mexico, including land transfer tax, legal notary fees and registration fees, among other costs.
"Canadians pay the same taxes on their properties as Mexican citizens, based on the appraisal value of the property," said Chapman. "There is a Capital Gains tax when you sell. This can be quite high - but if you meet all of the requirements, you can get an exemption up to a certain amount based on a fluctuating amount of government investment credits. There are other approaches to tax strategies as well, but usually taxes will still be due, especially if the property has appreciated significantly in value."
As with all tax matters, it is essential to consult a Mexican and Canadian real estate lawyer, as well as your own accountant.
Canadian property owners can rent out their properties in Mexico but any revenue must be reported and taxes must be paid in Mexico – you may also have to report and pay taxes in Canada, so speak to your accountant. You will be required to get a Mexican tax ID number.
Spending Money and Converting Currency
The official currency of Mexico is the Mexican peso. U.S. dollars are accepted in some establishments, but you should plan on carrying pesos. Most rental agreements, however, will be conducted in U.S. currency.
ATM machines are everywhere, and it is easy to access cash so it is not necessary to buy a large amount before you come to Mexico - unless you want to get a preferred rate.
Credit cards are widely accepted in the major tourist areas and cities at larger establishments, but some restaurants only accept cash and credit cards are not always accepted in smaller areas. If you plan on using a credit card, you may want to consider getting a credit card with no-foreign transaction fees to save on foreign transaction fees.
For vacation rentals, you can usually arrange wire transfers through your bank, but allow time for this. You may also want to send funds for rentals through a currency exchange service - such as Snowbird Advisor's currency exchange program - to get a better rate.
Cost of Living
With the exception of rentals, especially in premium location or with water views, the cost of living in Mexico is significantly cheaper than in Canada for most things (although high end restaurants and restaurants geared towards tourists can be surprisingly expensive).
Winter rental rates can be quite high, especially if they have ocean views or are in prime locations. But there is a wide range of accommodations in Mexico, so you can usually find something that fits your budget.
Safety
The Canadian government advises that Canadians should exercise a high degree of caution in certain regions of Mexico. You can find more up to date information about safety and security in Mexico on the Government of Canada website here.
Many Canadian snowbirds who winter in established snowbird and tourist areas in Mexico say they feel safe in their tourist communities but they do take normal precautions. These include not being out late at night, staying in popular tourist areas - and not driving outside these areas or into the countryside.
Canadian snowbirds wintering in Mexico should also register with the Government of Canada's Registration of Canadians Abroad program here so they can be informed about natural disasters, civil unrest and be reached in case of emergency.
Health & Insurance
Snowbirds should always obtain emergency travel medical insurance for travel to any destination outside Canada, and Mexico is no exception, as healthcare and medical treatment costs can be very expensive.
If you need medical attention in Mexico, is it best to find a private clinic or hospital. There are many that cater to tourists and visitors. Whenever possible, contact your travel medical insurance provider before seeking treatment so they can direct you to a facility they have relationship with so they can best manage your care and billing.
Mexico has excellent dentists, and some snowbirds make a point of having dental work done in Mexico because it's a lot cheaper than in Canada. But keep in mind that dental work won't be covered by your travel medical insurance, nor will any medical complications that may arise from your elective dental work.
Pharmacies are plentiful and you will find several medications that are normally only available by prescription in Canada are available over the counter in Mexico. However, it is important to only buy these prescription drugs from a reputable pharmacy.
Phone and Communication Services
Snowbirds use various methods for phone services in Mexico. You can use your Canadian phone and purchase a plan from your provider. Or you can insert a Mexican SIM card into any unlocked phone if you have one - these SIM cards can be purchased widely including at convenience stores.
Others choose to purchase a Mexican mobile phone and buy a plan for North American calling, which are inexpensive.
Of course, with internet access you can use Facetime, What's App, Messenger, Zoom, etc. for calling.
Streaming Services
Depending where you are staying and the type of TV services that are included, you may have access to cable TV and/or streaming services like Netflix, Amazon Prime and others.  
Some Snowbirds also bring their own Roku or Apple devices, or Amazon Firesticks.
Food and Groceries
Snowbirds have plenty of options for grocery shopping in Mexico including Costco, Walmart and large supermarkets in the larger centres where you can buy food, household supplies, alcohol and more. 
Fresh fruit and vegetables are plentiful and inexpensive in Mexico.
LGBTQ
There is a large LGBTQ community in Puerto Vallarta that is a welcoming place for LGBTQ visitors. In recent years, the city police department has been working with the LGBTQ community on sensitizing police officers to LGBTQ visitors, assigning more LGBTQ officers to police the Zona Romantica (a heavily LGBTQ area), and reducing the incidents of police harassment and corruption in general.