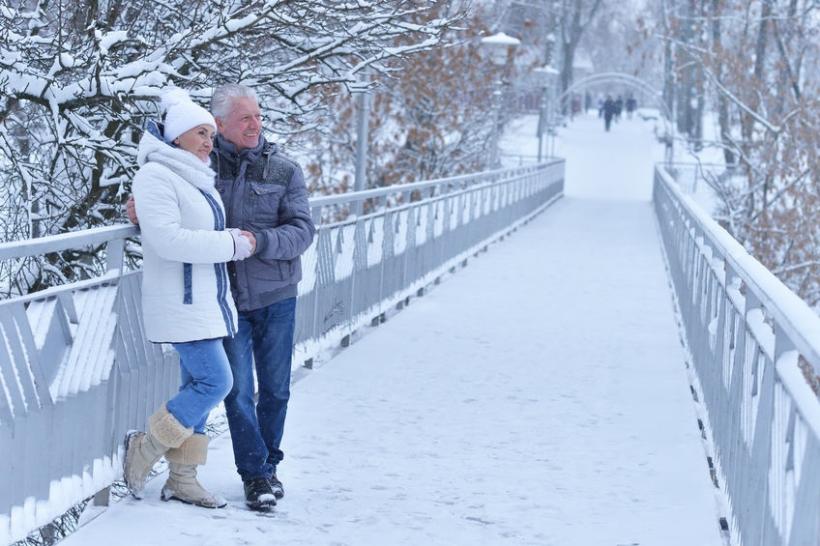 For many snowbirds, this will be the first winter in several years they have spent at home in Canada due to concerns about travelling during the COVID-19 pandemic.
Of course, most of us have spent many winters in Canada before so we know what to expect, but after several years of escaping to warm weather climates for most of the winter - where we have the privilege of exercising outdoors and avoiding the snow and ice - it does feel like a challenge to have to spend the winter back home.
If you've made the decision not to go to your destination in the sun this year – or not to travel there until some time in the New Year –  here are a few tips to help you plan for your upcoming winter at home.
Winter clothing
For some snowbirds, staying home is going to mean the purchase of winter boots, perhaps a winter coat, hat and gloves and other warm clothing. If you are a snowbird who goes back and forth during the winter you likely have these, but if you spend the entire winter away, you may not – and will need to add warm sweaters, scarves and perhaps even long underwear to your wardrobe!
Property maintenance
If your home in Canada requires you to maintain the area outside your property for your own safety and the safety of others (i.e. walkway, driveway sidewalk, etc…), you'll want to purchase some equipment that you probably haven't used in a while, such as a snow shovel, ice chopper and sidewalk salt/ice melt.
You may also want to make arrangements with an ice and snow removal service now to make sure you aren't scrambling for one when the winter settles in.
Your vehicle
Depending on where you live, many snowbirds are going to have to buy winter tires this year. You'll also want to top up on antifreeze, get some winterized windshield washer fluid and make sure you have an ice scraper/snow brush for your car.
Flu shots & staying healthy
Everyone's main goal this winter is to stay healthy. Getting the flu shot is highly recommended so as to avoid putting additional stress on the health care system with flu cases during the pandemic. 
Unfortunately, demand for the flu shot has overwhelmed the supply at the moment but more availability has been promised.
You may also want to consider increasing your Vitamin D, as you won't be able to enjoy the sunshine that you are normally used to when you go away for the winter.
Dealing with your snowbird property
If you own a home somewhere in the sun, you'll need to decide what to do with it during the time you otherwise would have been there this winter:
Keeping active
Probably the biggest worry is how to keep active a) during a pandemic, b) if gyms and pools are closed, and c) if there's snow and ice outside. 
The double whammy of the winter and the pandemic have created the perfect storm to foil our plans to keep fit this winter.
Depending where you live, you are likely to face some – or all – of these restrictions for at least part of the winter. So, it is going to mean getting creative to keep up some sort of exercise. 
Ideally, walking outside is good for all of us and we should plan to continue to do this during the winter whenever we can, which means having the right clothing and footwear to make that possible – and bearable!
Some people enjoy mall walking in the winter when the footing outside is too dangerous – but during the pandemic you will need to assess how safe it will be to engage in this indoor activity.
If you still have access to a gym – either in a condo building or one that you belong to - then you may choose to keep up an exercise routine that way. If you don't, then you will have to do what you can in your home. Having a treadmill or exercise bike at home is a big help. You can also opt for a set of free weights or yoga or Pilates exercises.
Many trainers, gyms, yoga instructors and Pilates studios are offering virtual classes, which is a great way to keep up a routine during the winter without having to risk going to group classes.
Some snowbirds are also able to enjoy winter sports such as skating, skiing and cross-country skiing.
Things to do
Much has been written about how to keep ourselves occupied during the upcoming winter months when we will be restricted by the pandemic as to what we can do and who we can see.  
Netflix, Amazon Prime, Crave and other streaming service subscriptions are one solution, but you can't spend the entire winter in front of the TV!
Signing up for online classes of all kinds can help keep your mind busy and allow you to learn something new while you're at it. There are many online class options available, from actual university courses to cooking classes, meditation, music, art, history, crafts and just about anything else you can think of.
Set yourself up with software that allows you to play games like Mahjong, Canasta and Bridge virtually with your friends.
Join your local library and download e-books for free as well as take advantage of their many resources.
It will be important to keep busy one way or another if you want the winter to pass by more quickly.
Staying connected
We have all learned through the pandemic to take advantage of tools such as FaceTime and Zoom.
Now that the cold weather is coming, it will be more difficult to stay in touch with family and friends in person depending on COVID numbers in your area and public health guidelines - but setting up regular Zoom calls or other virtual calls is a great way to stay in touch, especially if you live alone.
The bottom line
We would all prefer to be somewhere warm this winter. But for those of you who have decided to stay home in Canada, embracing the winter and making the best of it is the best way to get through it until you can get back to your winter destinations!