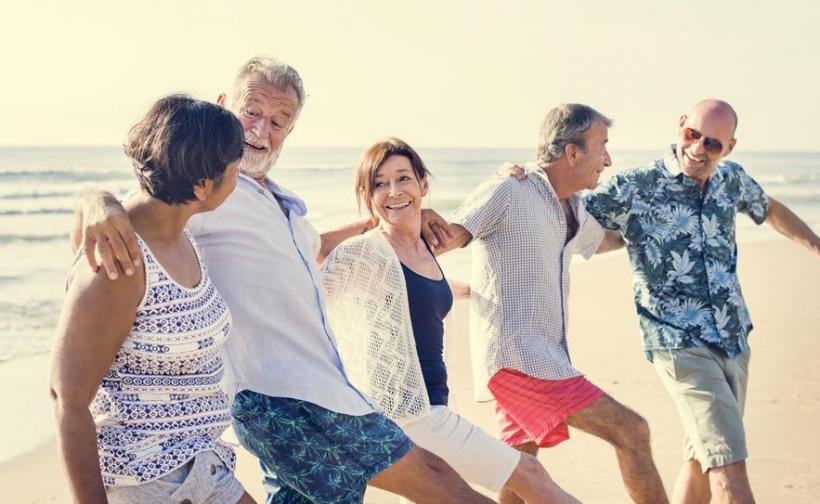 Being single should never stop you from escaping the cold Canadian winters and enjoying the snowbird lifestyle, as many single snowbirds do this every year.
However, being single might influence where you choose to go, how you get there, the type of community you chose to live in and what amenities and activities you will be seeking.
Whether you are single by choice or you have lost your partner, it's important to know that there are many others like you who are enjoying their winters somewhere warm.
In assessing your needs, it's always helpful to ask yourself a few basic questions:
How independent are you?

How often do you want company?

Do you enjoy having a community or do you prefer to be on your own?

Which activities do you want to participate in?
Answering these questions will help you determine what kind of lifestyle will suit you best when you're looking for a winter destination and accommodations.
Another great option can be finding another single friend to travel with, which works well for some single snowbirds and has the added advantage of allowing you to split accommodation and food costs while you're away. But you might want to try some shorter trips with this friend first to test the waters and make sure you are compatible living together.
Whether you decide to travel on your own or with a friend, here are our top tips for single snowbirds.
Beating loneliness – enemy number one
When you are single and older, loneliness can be your biggest problem. And being single can be particularly tough if you are recently single due to a divorce or death of a partner. 
We all know that too much loneliness and lack of social interaction is bad for our health. The question is, what's the best way to combat loneliness?
Fortunately, the snowbird lifestyle offers lots of options for both men and women to stay active and get involved - you just have to be brave enough to take the first step!
Here are a few tips for keeping busy and finding new friends while you're away for the winter:
Local clubs and special interest groups: What are you interested in? Playing cards? Art? Reading?  Hiking? Nature? Find local clubs in your area and join up. Many popular snowbird destinations also have local snowbird clubs that arrange social activities and events, and some even have Canadian snowbird clubs!
Golf, tennis & pickleball: If you enjoy golf, tennis or pickleball, it will be relatively easy to find partners and games. Many golf courses, tennis clubs and snowbird communities will even help you find someone to play with.
Churches, synagogues and mosques usually offer a variety of social activities and are a great way to meet people and stay active, even if you're not religious.
Volunteering is also an excellent way to keep busy and meet new people. A good place to start is seeking out local charities, arts facilities, animal shelters, community centers and non-profit organizations, as they are always looking for volunteers.
Take classes! You're never too old to learn something new or to improve your knowledge. Lifelong learning is a popular activity among snowbirds, which makes it an ideal way to meet other snowbirds and people with similar interests It's also a great way to keep your mind stimulated. Art, history, politics, cooking, crafts and bridge are just a few ideas.
Friends & family: If you've rented a place with a spare bedroom or two, you can invite your friends and family to visit you during the winter. This is a great way to spend quality time with kids, grandkids and friends.
Choosing a Destination
Choosing a destination that will suit your needs and lifestyle is one of the first things you're going to have to do. And if you're new to the snowbird lifestyle, it's a good idea to check out multiple destinations your first few years to find a place that's just right for you.
Single snowbirds might feel most comfortable in popular U.S. snowbird destinations like Florida, Arizona, California, Texas and Hawaii because of their close proximity to home, familiar culture, established snowbird communities and the ability to drive your car there or have it shipped or driven for you. 
But if you're feeling more adventurous, you can join the growing number of snowbirds who spend time in exotic and international snowbird destinations like Mexico, Central America and Southern Europe.
Spending the winter on a cruise ship may not come to mind as an option - but it can be an excellent solution for single snowbirds. Cruises can go a long way towards reducing the loneliness factor because all your meals will be at a table with others and you're guaranteed to meet people. Cruises also have non-stop activities available onboard as well as great fitness facilities, spas, etc… And of course, you'll get to see a lot of new places along the way.
They're also flexible so you don't have to go for the whole winter - you can book a cabin on a so-called World Cruise for durations of 30, 45, 60 or up to 120 days.
When you add up all the costs of going away for an extended period, living on a ship can actually be quite competitive. This is especially true if you shop around and don't pick the most expensive luxury line or the largest suite on the ship.
Accommodations
As a single snowbird, it's a good idea to seek rental accommodations that offer a community environment with other individuals similar in age to yourself - whether it's a country club, condo/apartment complex, RV resort or mobile home park. Being part of a community will help you avoid feeling too isolated (unless that's what you are looking for) and provide you with more opportunities to meet other snowbirds with similar interests.
Condos, homes and rentals apartments
Depending on your destination, you may have options on the water, in golf and country club communities, in RV parks, mobile home communities or in regular neighbourhoods. Choosing the right accommodation will depend on a number of personal preferences including budget, size requirements and which activities and amenities are important to you.
If you are sharing with a friend, try to choose a place that gives you both some privacy when you need it - split plan condos are great for this, with bedrooms separated by the living area and two bathrooms.
Renting in an established community with amenities and a clubhouse means there will be lots of opportunities to get involved in activities and social events.
One thing is for certain - you can't start looking for accommodation early enough. Many places get booked up a year in advance and even give a right of first refusal to the previous year's tenants.
Make sure you read the rental agreement thoroughly and ask for references from your landlord – and check if your trip cancellation & interruption insurance covers rental deposits and payments should you have to cancel for health reasons.
Here are some other important rental accommodation tips for snowbirds that are applicable regardless of whether you're single or not.
RV Resorts
While the RV lifestyle isn't for everyone, RV resorts can be an excellent choice for single snowbirds because they offer an instant community. Many RV resort residents return every year, allowing you to build long-term friendships. There are also endless arranged activities and lots of socializing where everyone is welcome. Being single is not a problem.
Having said that, single snowbirds may not love the idea of driving an RV on their own. For single snowbirds who like the RV resort lifestyle but don't want to drive, some resorts have RV's on location for you to rent or buy.
Mobile Home Communities
One of the more affordable accommodation types in the southern U.S. is mobile home communities, which can be found in many snowbird destinations and provide surprisingly spacious and comfortable accommodations.
In addition, these communities usually offer a number of recreational facilities, swimming pools and social events to help you meet people and find friends easily.
Getting To and From Your Destination
Many single snowbirds spending the winter in the southern U.S. will not feel comfortable making the long drive back and forth on their own – although some do. For those who don't want to make the drive alone, there are other options.  
Of course, flying is the obvious one, but if you'd like to have your car in your winter destination without making the drive, there are also snowbird drive-away services and car shipping companies that can take your car to and from your U.S. winter destination for you.
Flying
If you prefer to fly to your destination, keep in mind you may need a rental car while there, depending on where you are going. Or, you might want to purchase a car if you have a permanent winter home.
The sooner you plan your dates and book your flights the better, especially if you want to use points. You can find tips on how to save on airfare here.
Travel Insurance
It's important to be aware that travel medical insurance is a must for snowbirds, as the cost of emergency medical treatment outside Canada can be extremely high and lead to serious financial hardship if you don't have the right coverage.
The Learning Centre on our sister website Snowbird Advisor Insurance offers a number of helpful snowbird travel insurance tips and articles to help you make smart travel insurance decisions, save money and avoid pitfalls.