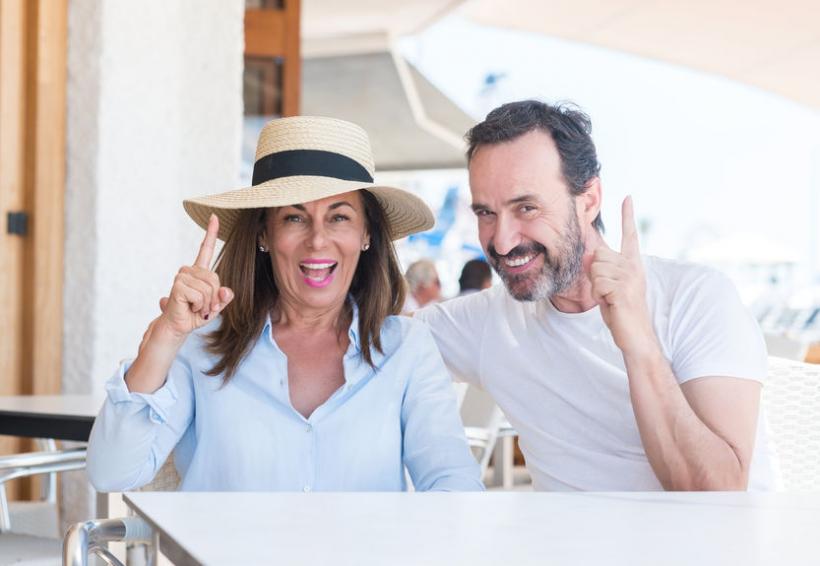 LAST UPDATED: August 21, 2023
So you've finally decided to take the plunge and escape the cold Canadian winters – welcome to the wonderful world of snowbirds! 
Whether you plan on spending the entire winter somewhere warm or are just testing the waters by getting away for a few weeks here and there, first-time snowbirds can find it overwhelming to prepare for their initial winter away.
After all, there are so many important things to consider, many of which you may not be aware of if you're new to the snowbird lifestyle.
But don't worry, we've put together a handy cheat sheet for first-time snowbirds to help you out that provides an overview of the most important things you'll need to think about as well as links to more in-depth articles and resources covering specific topics.
Choosing a Destination
The first thing you're going to have to do is choose a destination that appeals to your unique needs and lifestyle.
You'll want to consider a number of factors like climate, activities, distance, affordability and more.
Many snowbirds feel most comfortable in popular U.S. snowbird destinations like Florida, Arizona, California and Texas because of their close proximity to home, familiar culture, established snowbird communities and the ability to drive your car there and back. Hawaii is another popular U.S. option, but of course it's further away and you can't drive there.
However, an increasing number of snowbirds are becoming more adventurous and spending their winters in exotic and international snowbird destinations like Mexico, Central America and Southern Europe, just to name a few. Some of these destinations offer warmer weather and a lower cost of living than the U.S.
You can find more in-depth articles about various snowbird destinations in our Travel section, as well as our Featured Snowbird Destinations section.
Getting To and From Your Destination
Driving
Many snowbirds who spend their winters in the U.S. drive their vehicles down for the winter. It's usually more economical than flying and allows you to have the use of your car in your winter destination. It can also be fun exploring different places along the way during your drive there and back.
If you're driving down for the winter, you'll also need to become familiar with certain customs, immigration and insurance requirements to avoid issues at the border and while you're in the United States.
For those who want to have the use of their vehicle in their winter destination but don't want to drive, there are other options to get your car to and from your U.S. winter destination.
Flying
Depending on your choice of destination, you may or may not have a choice as to whether you fly or drive.
The sooner you plan these dates and book your flights the better, especially if you want to use points. You can find tips on how to save on airfare here.
If you are going to the U.S. for an extended period of time, you may want to drive your vehicle down, fly back and forth for the holidays or other reasons, and then bring your car home in the spring.
Tax, Immigration & Legal Considerations
For many snowbirds - particularly those who spend their winters in the U.S. - understanding applicable tax, immigration and other laws is essential, as violating these rules can lead to devastating tax bills or being denied entry to the United States!
The rules can be quite complex, and to further complicate matters, there's a lot of inaccurate and contradictory information circulating about what these rules are and how they work.
While we can't cover everything here, we've included some of the most important points for you to be aware of, as well as links to more in-depth resources that cover these rules.
How Long Can Canadians Stay in the U.S.?
Contrary to popular belief, there isn't one single U.S. residency rule that dictates how long Canadians can stay in the United States. There are actually two sets of rules that must be followed, one for tax purposes and one for immigration purposes.
Tax Rules



Canadians who spend their winters in the United States should follow the residency rules to avoid being considered a U.S. resident for tax purposes, as violating these rules can lead to serious adverse tax consequences.

The rules are a little complex at first, but once you understand them, they are quite clear. You can find an overview of U.S. residency tax rules for Canadian snowbirds here.
 

Immigration Rules



Canadians who spend their winters in the United States should also follow the immigration rules to avoid spending too much time in the U.S., as violating these rules can lead to being refused entry to the U.S. and even a permanent ban on entering the United States.

Unfortunately, the immigration rules aren't as clear-cut as the tax rules, as they provide immigration officers with a lot of discretion. You can find an overview of U.S. immigration rules for Canadian snowbirds here.
Other Immigration & Legal Considerations
Travel Insurance
Travel medical insurance is a must for snowbirds, as the cost of emergency medical treatment outside Canada can be extremely high and lead to serious financial hardship if you don't have the right coverage.
For snowbirds, getting the right travel insurance coverage can be uniquely complex due to long their long trip durations, age and pre-existing medical conditions, so you'll want to strongly consider going with an insurance provider that specializes in assisting snowbirds.
Be sure you shop around and make sure you're comparing apples to apples when it comes to coverage. And if you have pre-existing medical conditions, it's particularly important to investigate your options, as pre-existing conditions may limit your coverage.
You can find more tips about travel insurance for snowbirds here, as well as on our sister website Snowbird Advisor Insurance.
Accommodations
If you are just starting out exploring the snowbird lifestyle it is highly recommended that you rent in a few different destinations - or areas within a destination - before considering buying a winter vacation property. This allows you to explore different communities and accommodation types before committing to one.
Condos, homes and rental apartments
Wherever you go, you will likely have the choice of renting condos, apartments and homes. Depending on your destination, you may have options on the water, in golf and country club communities or in regular neighbourhoods. Choosing the right accommodation will depend on a number of personal preferences including budget, size requirements and which activities and amenities are important to you.
And when it comes to timing, you can't start looking early enough. Many places get booked up a year in advance and give a right of first refusal to the previous year's tenants.
Make sure you read the rental agreement thoroughly and ask for references from your landlord – and check if your trip cancellation & interruption insurance covers rental deposits and payments should you have to cancel for health reasons.
Here are some other important rental accommodation tips for snowbirds.
RVs
RVs are extremely popular with snowbirds and many couples invest in one to hit the road when they retire. It's particularly appealing for snowbirds who want to move around and explore different destinations.
However, RVs can be a big investment and the lifestyle isn't for everyone, so it's best to learn about the various types of vehicles and rent before you buy.  
You can learn more in our Introduction to the RV Lifestyle for Snowbirds article here.
Mobile home communities
One of the more affordable accommodation types in the southern U.S. is mobile home communities. These can be found in many snowbird destinations and offer surprisingly spacious and comfortable accommodations. These communities usually offer a number of recreational facilities, swimming pools and social events.
Banking & Foreign Exchange
If you're going to be spending extended periods of time outside Canada, you will likely need a significant amount of foreign currency.
The good news is that there are several services available to help snowbirds save on currency exchange and make it more convenient to make payments in foreign currencies.
They include discount foreign exchange services, cross-border banking solutions and U.S. dollar credit cards. The services that are right for you will depend on your individual needs, so it pays to do your homework.
You can learn more about currency exchange options for snowbirds here. In addition, Snowbird Advisor offers an exclusive currency exchange program with preferred exchange rates that Snowbird Advisor members can take advantage of.
If you plan on spending your winters in the U.S., you'll want to learn about cross-border banking solutions for snowbirds.
You'll also want to check out these snowbird credit card tips to understand how certain credit cards can cost you extra money through hidden fees and find alternatives to help you save money, including no-foreign transaction fee credit cards.
Travel Documents
You'll want to make sure your travel documents like your passport are in order before you leave, and if you don't have NEXUS, you might want to consider applying. Here's our snowbird guide to passports, NEXUS and other travel documents.
Government Forms for Snowbirds
Depending on your travel habits, you also need some of these important tax, immigration and other forms and documents for snowbirds soon or at some point in the future.
Travelling with Medication
Many snowbirds must bring their medication with them when they go away for the winter. Whether you're going to the U.S. or any other country, it's very important to be aware of the rules about which medications you can and can't bring with you and any limits on how much you can bring.
For example, although CBD oil is available in Canada and some U.S. states, it is illegal to travel with any cannabis products across the border and can result in your being banned from the country you are travelling to. 
Here's a helpful article for snowbirds travelling with medication to the U.S., but it applies to other countries as well. Remember to make sure your medications are in their original packaging and clearly labelled and always do your research ahead of time to avoid problems at customs.
Snowbird Advisor has also partnered with a leading digital pharmacy that provides our members with pharmacy services that are ideal for the snowbird lifestyle, including larger medication supplies for those spending long periods outside Canada and the option to have your medication shipped to the U.S.
Travelling with Pets
If you are planning to take your dog or cat with you to the U.S. over the winter you need to be prepared, or things will not go smoothly at the border. There are things you must do in advance, whether travelling by car or by plane. For details, please read our guide for travelling between Canada and the U.S. with pets.
If you are travelling to another country with a pet, make sure you check entry requirements for your pet as well as check with your airline ahead of time about when you can travel with pets, as some airlines have blackout periods.
Phone Plans
One of the challenges snowbirds have when they go away for the winter is finding convenient, affordable solutions to stay in touch with friends and family back home and in their winter destination. 
Some purchase plans in Canada that allow them to use their Canadian phone plans in the U.S., some buy a separate U.S. cell phone and others use a travel SIM card while outside Canada
Here are some helpful tips about cell phone options for snowbirds.
Planning Before You Leave
Going away for an extended period of time takes planning - not the least of which is preparing your home in Canada and putting all your affairs in order. 
Here's our checklist covering everything snowbirds need to do before leaving for the winter.
Planning to Come Home
On the flip side, there are things you'll want to care of in your winter destination before you come home at the end of the season
Here's our checklist covering everything snowbirds need to do before returning home.